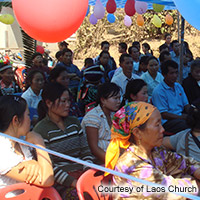 Project Information
Establishing a center which offers quality education, training and scholarships.
Describe the need affecting community
Most of our congregations are in house churches, and have limited space for gathering people for worship/fellowship. Some do not have facilities like toilets, chairs and tables. Some areas do not have or have limited access to water resources.
How will this Advance project help to address the need?
For house churches, we would usually assist by providing some reasonable amount of fund to make an extension room that could be used for worship place, as well as in providing some table and chairs that could be used when gathering or congregating. This is after the house owner and the congregation identifies his own contribution to the project. We also find way to assist in building toilets or wells to areas where we have churches and are most needed.
Describe the primary goal of the project
The primary goal of the project is to help develop and provide facilities, which could be used by the congregations for fellowship, worship, prayers, teaching, training and various ministries.
Describe the change you would like to see in the community as a result of this Advance project
The LSMC Dormitory would help us to have a more effective and conducive training and accommodation place for our Pastors and Lay during our Training in Ponsomboun LSMC. There would be more available space, building and facilities for our Methodist congregations to gather together to accomplish their goals and ministries such prayer meetings, fellowship, worship, bible studies, training, and other various ministries.
Contact Information
Global Ministries Contact