Leadership Training for Christian Youth in Liberation Theology
Country:
Israel/Palestine
DONATE NOW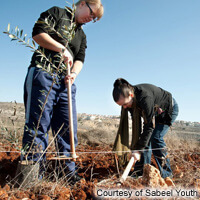 Project Information
Supporting Palestinian Christian youth through trips, Bible study, workshops and volunteering.
Describe the need affecting community
Most church traditions in Palestine and Israel do not have bible studies nor do they encourage reading the bible. Not all churches have an active youth groups.
How will this Advance project help to address the need?
Providing copies of the bible in Arabic. Providing commentary on the readings. Training facilitators to lead and facilitate the meetings. Encourage the youth to implement the teachings of Christ in their life and community.
Describe the primary goal of the project
Our primary goal is to help the youth be more aware of their faith, and active in their communities.
Describe the change you would like to see in the community as a result of this Advance project
Sabeel hopes that the community affirms its commitment to make the gospel relevant ecumenically, and spiritually in the lives of the local indigenous Church. Our faith teaches that following in the footsteps of Christ means standing for the oppressed, working for justice, and seeking peace-building opportunities, and it challenges us to empower local Christians. Since a strong civil society and a healthy community are the best supports for a vulnerable population, Sabeel strives to empower the Palestinian community as a whole and to develop the internal strengths needed for participation in building a better world for all.
Contact Information
Global Ministries Contact
Mr. Omar Haramy
+972 2 5327136