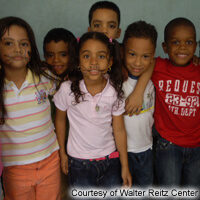 Project Information
Providing preschool, day care and afterschool study programs for children.
Describe the need affecting community
There is a great need for quality care for the children of low and middle income workers. Which, will enable them to develop to their full potential. This attention includes not only "taking care" of the children, but also detecting and dealing with developmental problems and stimulating their emotional, intellectual and spiritual development.
How will this Advance project help to address the need?
Our project has been a model for early childhood education. We have made sure that our teachers receive excellent academic formation and support in terms of facilities, equipment and didactical supplies. We made major strides in improving the quality of attention to particularly the youngest children by the addition of a specialist in early intervention.
Describe the primary goal of the project
To be an innovative educational center that promotes Christian values and treats children as the protagonists of their own physical, emotional, mental, and spiritual development, with the commitment and participation of the family and other members of the community.
Describe the change you would like to see in the community as a result of this Advance project
The positive results we achieve with the children in our care will make a lifetime impact on their futures.
Contact Information
Global Ministries Contact
Missionary