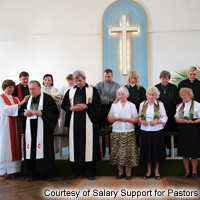 Project Information
Providing salary support to local pastors in the re-emerging church
Annual Goal: $28,000.00
Year to Date Gifts: $9,580.00
Describe the need affecting community
The UMC in Latvia is in the re-birthing process. Most congregations are quite small and cannot afford to pay their pastor from the available funds in their control. The central pastors salary fund ensures a predictable and timely source of money for the pastors. The UMC's goal is to slowly transfer all responsibilities of providing the pastors a living wage to the individual congregations as they grow and their capabilities increase.
How will this Advance project help to address the need?
The project helps serve the present problem of needing clergy in order to stabilize and grow the congregations without any financial resources to ensure their salaries. It also provides the opportunity to look forward to planting new church communities.
Describe the primary goal of the project
To provide an adequate salary for the appointed clergy serving the congregations. This project will give the Church the time to build up its membership, create new church communities as well as train and develop new leaders and pastors.
Describe the change you would like to see in the community as a result of this Advance project
– More people introduced to the good news of the Gospel and its transforming power. – A different understanding or view of organized religion. – The joy and satisfaction of volunteering to be a part of a reaching out to the disfranchised and suffering in the community.
Contact Information
Global Ministries Contact