East Belfast Mission
Country:
Northern Ireland
DONATE NOW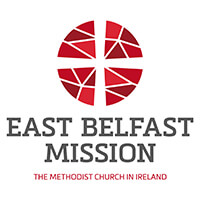 Project Information
Supporting the vital work with a regular donation, including Hosford Homelessness services, Employability project which helps people back to work, Irish Language project to connect a divided community and of course the thriving church community which offers community groups, counselling and pastoral care to those who need it.
Describe the need affecting community
Our work is based in the heart of East Belfast on the Newtownards Road. The four surrounding electoral wards, where our work primarily takes place, are all in the top 30 most deprived wards in Northern Ireland where overall life expectancy is between 2 and 10 years less than the NI average. In the area in which we are based, 32-46% of people are totally economically inactive and two thirds live in rented accommodation. Qualifications are low, with 39% of adults possessing low or no qualifications of 4 GCSE's or less, and unemployment and lack of self-belief are rife. Paramilitary influences still prevail in our community and divides between opposing communities are still extremely evident, overall the impact of "the Troubles" is something still strongly felt across our community.
How will this Advance project help to address the need?
We aim to relieve these difficulties and transform and renew our community by offering a range of services to support those in our community who need our help. The work of East Belfast Mission is to seek to bring the light of Christ to all those who feel themselves to be in the 'dark' – through addictions, through unemployment and financial issues, through broken relationships. We as part of God's mission continue to reach out into our local community, bringing God's love in practical ways. Here are some of the impacts we have achieved in the past year (2018/19): – East Belfast Mission are currently engaging with active paramilitaries including major Loyalist, Republican and Trade Unionist groups. These groups meet with us for regular conversations as we aim to tackle the ongoing issue if violence in our community face on. These conversations are essential in the ongoing political vacuum, as Northern Ireland has now been without a government for 2 and a half years. Through these conversations we aim to avoid the possibility of violence filling this vacuum as we try to protect and secure the increasingly fragile 1998 'Good Friday' peace agreement. • Turas offers a programme of 18 weekly language classes (attended by approximately 270 learners) for a range of ability levels as well as cultural activities and heritage themed sessions. Programmes Include: Irish Language Classes at beginners and intermediate levels, cultural activities including weekly set dancing classes, traditional music, an Irish language singing class and periodic music and arts events and heritage sessions on the historic links between Protestants and the Irish language and the relevance or the language in present day society. • Helped around 200 people to break out of homelessness, maintain their own home, and to have a better life through our Hosford Homelessness service. The service provides high quality accommodation to 26 people every night. • Provided on-going tenancy support for over 50 individuals who are at risk of homelessness – helping them to maintain their home and independence. • Provide Community Projects, including Women's Groups, Children's Fusion and Aspire Groups, Seniors Lunches, Mums and Tots, Friendship Circle, Adults Drop-in, along with church services and Bible Study Groups, all of which impact over 300 people per week • The LEMIS+ employability team have worked with some 404 new clients since January 2018 until September 2018 and assisted 126 clients to return to work during that period. From January to September 2018 our clients availed of 405 training opportunities including Health and Social Care level 1, Childcare Level 1, CSR cards, forklift licenses and Essential skills in Maths, English and ICT. • Since January 2018 41 families have benefited from taking part in the Community Family Support Programme which includes positive parenting, anger management, cook it project, family therapy sessions and ultimately employability opportunities for the families. • Provided 110 people with free counselling. • Provided 11,176 'Meals on Wheels' to the elderly and housebound.
Describe the primary goal of the project
The three core aims at the heart of East Belfast Mission's work are:
• Congregational Life: To be the heartbeat of East Belfast, grow deep roots in the local community and effectively share the Christian faith
• Serve the Community: To engage effectively with the local community and to develop services which continually evolve to meet changing needs.
• Excellence: To ensure that all aspects of the mission work together to deliver services to the highest standard, as well as continuously improving.
Describe the change you would like to see in the community as a result of this Advance project
Our vision for the future is one where east Belfast is a peaceful and thriving community; and East Belfast Mission is a trusted, inclusive, united and dynamic organisation that effectively meets people's needs in our community. Our Annual Operating Plan has measurable outputs for every action undertaken at the Mission. The East Belfast Mission Board will assess progress against this plan every three months
Contact Information
Global Ministries Contact