Senegal Wellness Project
Advance #14525A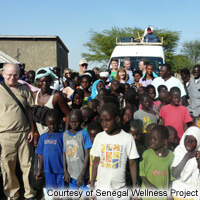 Project Information
Helping build healthy communities through medical examinations and well balanced meals
Describe the need affecting community
In many of the rural villages we visit to provide medical services and consultations, we meet elderly people who are seventy and older, who have never been examined by a doctor. Many of the children are malnourished with worms, wounds and infections. Many poor people in the cities are sick and malnourished, who have never received medical attention. The nutrition program feeds many needy children in the villages.
How will this Advance project help to address the need?
Daily walk in service is available in the clinic from 9am to 5pm, Monday through Friday. The traveling clinic spends one day a week in villages when logistics permit. The Nutrition Program is presently in three communities providing free meals to children and sometimes their families one or two times per week. The program will be expanded to more days and communities as money and resources become available. Ideally this is a program that the churches could become involved with, and funding as part of their mission outreach.
Describe the primary goal of the project
Improve physical health of urban and rural citizens through regular medical examinations, and consultations either on sight in the villages or in the medical clinic. Provide nutrition training to village women to help feed hungry children by operating children's nutrition feeding stations. Partner with mission agricultural program to provide fresh vegetables for the feeding stations.
Describe the change you would like to see in the community as a result of this Advance project
Healthier children and adults. More volunteers at the feeding stations. An effective collaboration between the agriculture program and the nutrition program. For example, medical team could do consultations with the farmers who are participating in the agriculture program, and their families followed up with the nutrition program. Offering training on healthy meal preparation and composition.
Contact Information