Tsalala Women Training Center and Program Department
DONATE NOW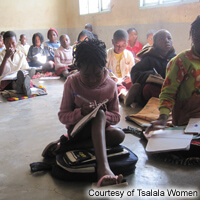 Project Information
Providing a training center and program department for Tsalala Women
Describe the need affecting community
The need affecting the Tsalala community is that for the last two years there has been no rain, and the people depend on agriculture. When there is draught there is a huge gape that drives many people to a vulnerable life, and the goods in the shops became extremely expensive. Many people do not have formal jobs, because the majority of them did not go to school.
How will this Advance project help to address the need?
One of the strategies that my project will do in order to address the needs in the community is to continue influencing our donors to provide more funds. In order to mitigate the hunger which affects people in the Tsalala community. We also plan to provide micro-finance system which can be given to people to start small business in order to fend for themselves, and also to keep the project alive. We would like to have funds to provide school lunches for children who leave home without eating, and don't have good performances in school, if they attend class with an empty stomach. With the same school lunches, we will sale to children who can afford them. So that we also can manage to maintain the tuck shop functioning.
Describe the primary goal of the project
The primary goal to achieve, is to eliminate early marriage in the community, reducing the rate of unemployment, illiteracy that affects mostly young women. Young women are the majority who drop out of the school due to unplanned pregnancy, so our aim is to train people and families in the community so that people can understand the importance of giving priority to girls education.
Describe the change you would like to see in the community as a result of this Advance project
We want to see many young men and women involved in school, performing well without having babies from babies. Seeing our young people getting through high levels of schools. Being involved in businesses which will give them a dignified life. We want to be free of attacks when we move in the area, no matter what time without having police men or women with us, free of fear. We want to see people trusting one another, loving each other, helping each other.
Contact Information
Global Ministries Contact