Katanga Methodist University at Mulungwishi
Country:
Congo, (Democratic Republic)
DONATE NOW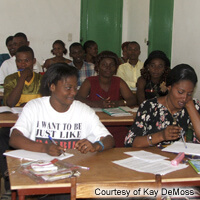 Project Information
Preparing leaders in theology, education psychology, information technology and agriculture
Describe the need affecting community
The DR Congo has a tremendous need for trained Christian leadership. Over 50 percent of the population is under the age of 18.
How will this Advance project help to address the need?
The Katanga Methodist University is training leaders for both the Church and the Society through Schools of Theology, Information Technology, Psychology/Education and Agriculture.
Describe the primary goal of the project
Our vision is to become an international Christian University that is a light to the world. We want to be a place that serves the children of God, develop leadership and teaches our students to serve others. We want to demonstrate excellence in our teaching, our facilities and our services to others.
Describe the change you would like to see in the community as a result of this Advance project
The continuation of the creation of a strategic plan that englobes all the entities on the mission station (University, pre-school, elementary and high schools, dispensary and agriculture program). We have started and would like to see all the different departments working together for common goals.
Contact Information
Global Ministries Contact