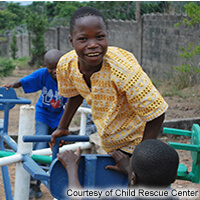 Project Information
Striving to ensure every child grows up in a safe, loving, and permanent family.
Describe the need affecting community
Sierra Leone is one of the poorest countries in the world and regularly ranks in the bottom 10 on the UN Development Index. The recent COVID-19 pandemic further devastated the already fragile economy with soaring inflation, impacting families already living below the poverty line. It is estimated over 25% of children in Sierra Leone are involved in child labor. Fewer than 50% of women achieve literacy in Sierra Leone. Nearly 60% of Sierra Leonean families live below the international extreme poverty line of $1.90 per day. In this socioeconomic and cultural climate, children are the most vulnerable to exploitation, disease and despair.
How will this Advance project help to address the need?
The Child Reintegration Center works with local partners to identify children and families in need. The CRC provides access to education, healthcare and resources that lift vulnerable families out of poverty and crisis and then focuses on programs that strengthen the families through case management, counseling, coaching, training and mentorship to empower them to care for themselves.  CRC staff also provide transition support services designed to train and equip orphanage leaders to transition from residential care of children to family-based programs, as well as providing curriculum to equip social workers to reintegrate children and reunify the families that they serve, through workshops, coaching and mentorship.
The Child Reintegration Centre initiatives include a microfinance program and family strengthening program. The microfinance program aims to teach some of the most vulnerable families how to budget, save and create a simple business plan. Microfinance graduates receive a small loan to launch their business. The family strengthening program provides opportunities for parents and children to participate in workshops, special events and mentoring to strengthen the bond of children to their parents or caregivers.
Describe the primary goal of the project
Strong, nurturing families and communities where all can fulfill their God-given potential through good health and education.
Describe the change you would like to see in the community as a result of this Advance project
Strong, nurturing communities where all can fulfill their God-given potential through good health and education.
Contact Information