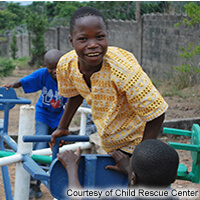 Project Information
Providing a holistic faith-based program for vulnerable children.
Describe the need affecting community
Sierra Leone is one of the poorest countries in the world and regularly ranks in the bottom five on the UN Development Index. The recent Ebola outbreak further devastated the already fragile economy and children lost nearly a year of education due to school closures in 2014 – 2015. It is estimated that 50% of children in Sierra Leone are involved in child labor. Fewer than 50% of women achieve literacy in Sierra Leone. Nearly 60% of Sierra Leonean families live below the international extreme poverty line of $1.25 per day. In this socioeconomic and cultural climate, children are the most vulnerable to exploitation, disease, and despair.
How will this Advance project help to address the need?
The Child Rescue Center works with local partners, including the Sierra Leone Ministry of Social Welfare, to identify children and families in need. The children are vetted by the CRC Enrollment and Reunification Committee, and approved by CRC Supervisory Committee, which is largely made up of clergy and lay leaders of the UMC Sierra Leone Annual Conference. Vulnerable children approved for enrollment may enter one of the four primary CRC programs: Residential, Foster Care, Child Support, or Promise Scholarship. Children in the Residential Program live on the residential compound in family groups of 5-9 children; attend classes with peers; eat three nutritious meals each day; participate in daily and weekly Christian worship activities; receive individual and group psychological counseling; and receive medical care. The Foster Care Program supports vulnerable children by placing them with loving Christian families, most of whom are identified through the local UMC churches. The CRC covers school fees, school uniforms and shoes, school supplies and text books, health care, and nutritional support for these children. The Child Support Program supports vulnerable children who are still living with their families. We collaborate with families to prevent child labor by providing school fees, school uniforms and shoes, school supplies and text books, and health care for these desperately poor children. The Promise Scholarship Program offers talented youth the opportunity to pursue higher education, so that they may develop specialized skills in a trade or profession, and become successful contributors to their communities.
Describe the primary goal of the project
The primary goal of the Child Rescue Center is to see every child in Sierra Leone, particularly the girl child, remain in school, free from any danger of exploitation from forced child labor and trafficking. The Child Rescue Center hopes to foster leadership in the children served by its programs so that they can go on to become the future leaders that their country so desperately needs.
Describe the change you would like to see in the community as a result of this Advance project
Strong, nurturing communities where all can fulfill their God-given potential through good health and education.
Contact Information
Global Ministries Contact