Hope For The Deaf Skills Training Program
DONATE NOW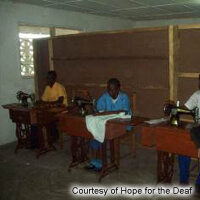 Project Information
Providing skills training for hearing-impaired persons.
Describe the need affecting community
In the context of the Liberian society, disabled people in general are most time being considered as insignificant. Nobody therefore will want to show any care for such a person. Deaf children in Liberia are no exception. Most of them are mere beggars in the community. Many of them are seen doing dirty and hard labor work for survival. There is absolutely no empowerment program for deaf children, no educational facility for them. They have no skills and no education whatsoever, they are therefore vulnerable to ill-treatment from the community. They don't seen to have any value or importance. Deaf girls are seen being abused on a daily basis. Many are experiencing unprepared pregnancy. I personally have appeared at the police station more than twice to witness a case involving a deaf girl been raped. I had to even volunteered to interpret for this innocent young deaf girl. The perpetrator will most of the time go with impunity. Justice is not being dispensed for the deaf. Many of them are not prepared to fight their case for proper redress only because they are not letter and not able perfectly express themselves. In view of the above, most deaf children are not prepared to contribute in any way to the community in which they live. This is indeed very sadden. In fact they have been considered as mere liabilities to the community thereby loosing every form of respect or value. They do have skill to do decent work and earn their own income and support their individual family members. They have strength and the willingness to work but cannot simply because they do have skills. There are no facilities to help empower them to work and have a family and of course be able to have a family and contribute the community in which they live.
How will this Advance project help to address the need?
We will first hire the expertise of individuals in the areas of Special Education and Deaf Education with special skills in teaching sign language. We will hire the service of a trained shoes maker to teach our shoe making class as well as a trained tailor to teach sewing. Will purchase all the needed training materials and equipment for both our tailoring and shoe making classes. Each training is going to last for twelve (12) months after which a one month training will be provided to help them start a business. Training package will be given to each graduate. We are convinced that this is going to help them a long way in the community.
Describe the primary goal of the project
The primary goal of this project is to provide an opportunity through skills training for the deaf and hard of hearing children to develop their full potential in order to lead a meaningful productive life.
Describe the change you would like to see in the community as a result of this Advance project
As the result of our project, I would like to see our graduates operating at lease their own Mini business in the community. With the knowledge acquired, I would love to see the community and deaf working together. I would like to see respect and value be restored back to the deaf in the community.
Contact Information
Global Ministries Contact
David Worlobah
011 231 6523369