Southern Africa Methodist Volunteers In Mission
DONATE NOW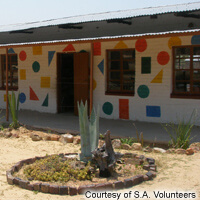 Project Information
Sharing the love of Jesus Christ through volunteer teams
Annual Goal: $8,500.00
Year to Date Gifts: $75.00
Describe the need affecting community
Poverty, HIV/AIDS, unemployment (especially amongst young people), natural disasters and gender inequality are key contributors to the crisis and challenges facing countries in Southern Africa added to this are the issues of political, economic instability and food insecurity that are exacerbated by the severe effects of the drought currently ravaging the region. The Methodist Church of Southern Africa through its vision of "A Christ-Healed Africa for the healing of nations" hopes to effect meaningful change and contribute to the eradication of the challenges listed above.
How will this Advance project help to address the need?
By creating jobs for the unemployed; provide food security for the poor; facilitate distribution of OVC's; provide counselling and care services to the most vulnerable; Most of the projects are spread throughout Southern Africa and in the remotest villages where skills, expertise and resources are minimal. With the assistance of the Projects Officer and work teams with the required experience we will be able to impart: knowledge, enhance output, create models of excellence, contribute to local economy and job creation.
Describe the primary goal of the project
To assist the MCSA enhance her contribution and support to the socio-economic challenges such as poverty, unemployment, hunger, HIV & AIDS, skills shortage, gender imbalances and environmental challenges.
Describe the change you would like to see in the community as a result of this Advance project
In the context of our Vision & Mission as the MCSA, we envisage that the lives of individuals and communities will be changed for the better. By this we mean – amongst other: * a realistic appreciation of the Gospel imperatives of "feeding the hungry, clothing the poor, freedom of oppression" * a significant decrease in the child mortality rate; * eradication of poverty and hunger; * increase in food security; * increase in a healthier lifestyle; * greater social awareness; * successful and thriving small scale agricultural programmes; * decrease in HIV & Aids infections;
Contact Information
Global Ministries Contact