Summer Camp for Lithuanian Children and Youth
DONATE NOW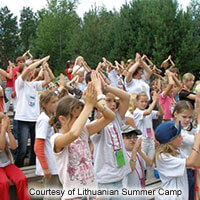 Project Information
Providing a Christian camping experience for children and youth
Annual Goal: $5,000.00
Year to Date Gifts: $1,291.69
Describe the need affecting community
Camp help to invite more children and youth to come and participate or help for community. Children and youth are church future.
How will this Advance project help to address the need?
This camp gave children and youth the opportunity to find God, to glorify God, to enjoy time at the like, make new friends, learn new and interesting handicraft, to be near the campfire with songs, to distance themselves from technology, to enjoy God's gifts.
Describe the primary goal of the project
• To organize Lithuania United Methodist Church children and youths camp. • Evangelization, teaching the word of God to children and youth. • Inviting children and youth into a faith relationship with Jesus Christ. • Providing a safe environment for "at risk" children and youth whose parents suffer from addiction and abuse. • Preparing children and youth for future leadership in the life of the United Methodist Church.
Describe the change you would like to see in the community as a result of this Advance project
More youth leaders will help to organize the camp.
Contact Information
Global Ministries Contact
Laurijana Budzinauskaite
370 373 23588
Missionary