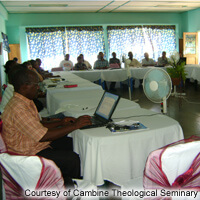 Project Information
Supporting the only United Methodist Seminary in the region.
Describe the need affecting community
Since I am talking about the Theological Seminary, the need effecting the community is related with the improvement of the Library. There is also need of Funds for the professor's salary. In addition to that there is also need of rehabilitation of the staff housing.
How will this Advance project help to address the need?
I hope that if we get funds, it will definitely help to address the needs of our Seminary.
Describe the primary goal of the project
The primary goal of this project is supporting the libraries and improving salary for professors. The long term impact will be the continuing paying salary.
Describe the change you would like to see in the community as a result of this Advance project
I would see students from staffs come to read books.
Contact Information