Babyfold at Old Mutare Fairfield Children's Home
DONATE NOW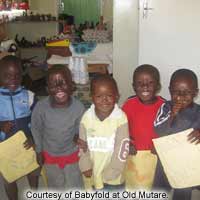 Project Information
Caring for abandoned children by providing love, clothing, food and education
Describe the need affecting community
The need being addressed by this project is that of homeless children. We take care of abandoned, orphans and vulnerable children brought to us by the Department of Child Welfare. The Children's Home seek to make sure that these children are taken care of in homes like an ideal family, with a mother who takes care of them in a home setting. We need to feed, cloth, pay school fees, pay salaries for the mothers, administrative charges and running expenses.
How will this Advance project help to address the need?
Look after the children by feeding them baby formula when they are still babies. Making sure that they are healthy and paying hospital bills if any of the children becomes ill. Paying school fees and buying uniforms and school supplies. Supervising home works and maintaining discipline so that they grow up as good citizen. Making sure that the mothers/House parents' salaries are paid on time so that they will take good care of children without grumbling.
Describe the primary goal of the project
Our goal is to make sure that all children under Fairfield Children's Home are taken care of Spiritually, physically, socially and mentally. Objectives 1. To fulfill the UMC discipleship and its mission to children and prepare them to accept Jesus Christ as Lord, Savior and God by exemplary parenthood. 2. To raise children in clean, friendly and spiritual family environment. 3. To prepare children for education and a life skill or profession and increase pass rate by having more extra lessons for them. 4. To work in partnership and networking with other child welfare organization in Zimbabwe and abroad guided by United Nations Conventions and Charter on children. 5. To carry out an effective Hope Outreach Program to other vulnerable children living within the surrounding farming communities, targeting 150 children per year very needy children and those suffering as a result of HIV/AIDS scourge to their parents or guardians. 6. To maintain a very high level of donor / sponsor confidence and friendship, through transparency and effective service delivery to the children's needs. 7. To have continuity and vibrant income generating projects.
Describe the change you would like to see in the community as a result of this Advance project
We would like to see health and educated children who are not rooming in the streets.
Contact Information