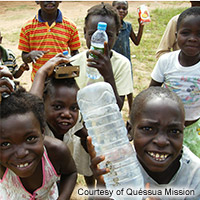 Project Information
Providing infrastructure in agriculture, health, nutrition, education and developing the surroundings
Describe the need affecting community
Need for education, health, nutrition, and modern agricultural practices are some of the urgents needs faced by the Mission and the surrounding communities, as the Country is recovering from the Civil War.
How will this Advance project help to address the need?
Financial support raised through this project will be used to expand the school facilities, re-open the medical center as well as re-establish the agricultural programs for the good of the surrounding communities.
Describe the primary goal of the project
Primary goal of the project is provision of education opportunities to the surrounding communities, medical care for the communities around Quessua, nutrition resulting from modern agricultural practices, for the benefit of the surrounding communities. Long term impact will be as follows, the church will have played it's role into development of the welfare of the surrounding communities in terms of education, health and nutrition hence alleviating human suffering through hunger, hunger and ignorance.
Describe the change you would like to see in the community as a result of this Advance project
More educated people as result of the school in the Mission and will be able to take up leadership position with the Government as well as the Church. A healthy community due provision of health services by the hospital and families as a result of hygiene and nutritional skills acquired at the center more economically empowered women as a result of entrepreneurial skill acquired at the Center. More involvement of Women in leadership and decision making both in the Church and community levels.
Contact Information
Global Ministries Contact