North Katanga Wings of the Morning
Country:
Congo, (Democratic Republic)
DONATE NOW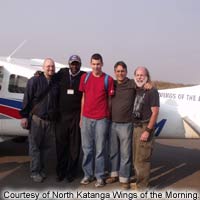 Project Information
Providing an aviation ministry that serves the church
Describe the need affecting community
Transportation is the biggest issue facing our community. The train has not been in operation for several years. No public transportation is available except for 2 commercial airlines $300 one ways ticket for just 230 miles which the poor can not even consider. People can grow more food in their villages but the fact that their is not away to transport their goods to the city where they can make some money, they get discouraged from even trying.
How will this Advance project help to address the need?
We provide free transportation for the critically ill patients and only one member of each family to accompany the patient. We provide free transportation back home after their treatment.
Describe the primary goal of the project
The primary goal of this project is to be in a position to give a second chance to life to many that are critically ill and isolated from Hospital and clinics by providing free transportation to allow for this. Although we do provide transportation to all church related flights the ultimate goal is till to be able to transport the Doctors and nurses to the villages instead of flying the patients now and then to the city. The idea is that of a mobile clinic.
Describe the change you would like to see in the community as a result of this Advance project
I think we might be more effective to the community interns of a mobile clinic. Many people though in need of medical assistance find it very difficult to leave their families behind. Others still do not know how to support themselves once the reach the city and this scares them from even trying.
Contact Information
Global Ministries Contact
Missionary