Mulungwishi Women's School
Country:
Congo, (Democratic Republic)
DONATE NOW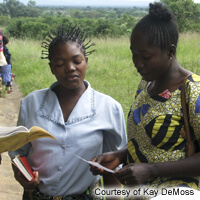 Project Information
Equipping women for ministry and to empower other women
Describe the need affecting community
Women are the backbone of the Congolese society. They are the catalyst in the community. Having women who are trained is imperative to develop the whole community. Them also being to other women examples of self worth and having the skills that they can use to improve the life of their families.
How will this Advance project help to address the need?
Through the teaching program of the Women's School giving the needed courses that will prepare the women for the life they will be leading in the community. There is also a great deal of practical training coming with participation in the local church.
Describe the primary goal of the project
To train women to be effective leaders in their church and community and partners with their husbands in the ministry.
Describe the change you would like to see in the community as a result of this Advance project
The level, worth and appreciation women being raised in the church and community.
Contact Information