Mulungwishi Theological Seminary
Country:
Congo, (Democratic Republic)
DONATE NOW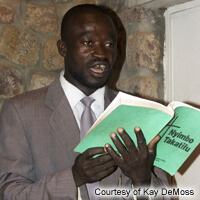 Project Information
Developing and educating national clergy persons.
Describe the need affecting community
The Church is growing at such a pace that the need for more clergy and those who are well trained is imperative. In 1960 (independence) there were 20,000 UM in the province. Today there are about 600,000. The conflict and corruption existing in the society is calling for moral leadership in the community. It is the Church and her leadership that needs to take the lead in this.
How will this Advance project help to address the need?
The Seminary provides the best trained pastors for the church and in the society.
Describe the primary goal of the project
To train leaders for the church and society. The Church is growing at a faster rate in this area than most any other place in the world and there is a need for educated leadership to continue the growth and lead it. Also the Church and its leadership is in the best position to bring about positive changes in the society that has been a victim of violence and corruption. Also, the Seminary wants to play a bigger role in providing theological material for Francophone Africa.
Describe the change you would like to see in the community as a result of this Advance project
Changes would be to see increase in Church membership and improvements in addressing the ills of Congolese society that can be under the control of the local population. Many of the problems (invasions, economic controls from the outside, etc.) are beyond the control of this level. Leaders who take the Masters of Leadership Program will be implementing it in their work place. Training in writing materials will take place and books scanned to be put in e-reader format.
Contact Information