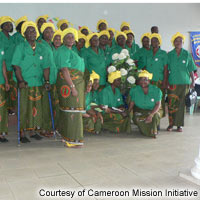 Project Information
Preaching and interacting with other existing churches and alleviate human suffering.
Describe the need affecting community
The current political crisis in Cameroon has an adverse effect on the UMC Cameroon as a whole. Many churches in the conflict-affected zones are closed due to serious gun shorts on daily basis. Majority of our churches have lost members due to constant migration, as Christians keep moving from one city to the other for safety. In addition, there are limited access to capital and job market for entrepreneurial youths of conflict-affected zones. This makes them more vulnerable to radicalization, criminality, teenage pregnancy, and early marriage, and further endangering the economic structure of their communities and the body of Christ. There is a need of creating income-generating projects in order to ensure the sustainability of the church in the future and training of more leaders, Pastors and Laity.
How will this Advance project help to address the need?
The United Methodist Church in Cameroon is a Mission Initiative of Global Ministries that exists to preach the Good News in order to make disciples of our risen Lord Jesus Christ, interact with other existing churches and alleviate human suffering.
Describe the primary goal of the project
Establish a strong and valuable United Methodist presence in Cameroon. The Cameroon Mission Initiative to become a Provisional Annual Conference by 2024.The primary goal of the project is to improve the capacity of UMC churches to conduct its spiritual and evangelism activities through the provision of permanent church building, conference rooms and, administrative office. The long-term impact of the project is to achieve a holistic transformation of communities. Communities are expected to receive spiritual and physical changes, hence social transformation of people's lives. There will be improvement of the community member's wellbeing.
Contact Information