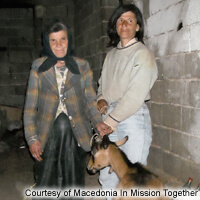 Project Information
Supporting mission outreach in the United Methodist Churches in the Republic of Macedonia
Describe the need affecting community
The Methodists in Macedonia have a strong faith and know their Bibles well. Their stories of remaining faithful in times of persecution and other hardships can serve as inspiration to their U.S. partner. However, they do not have a lot of experience in doing mission outside the church; this is an area where they can learn from and be encouraged by their U.S. partners. Since in Macedonia unemployment is high and wages are low, financial support from the U.S. church is important. In addition, much can be shared in the area of stewardship and giving. In addition, financial support is always needed for on-going mission outreach such as Meals on Wheels and help for the migrants from Syria and other countries.
How will this Advance project help to address the need?
This project seeks to partners churches (or groups of churches) in the U.S. with churches in the Republic of Macedonia, with a goal of being in mission together. The churches commit to a long-term relationship that leads them to get to know one another, learn from one another, support and encourage one another. The churches share worship experiences and ways of living out Jesus's commandments to love one another. Instead of the U.S. church "doing for" the Macedonian church, the two churches work together to decide upon and together carry out a mission outreach project. The partnerships recognizes and utilizes the strengths of both partners. This Advance, according to the wishes of the donors, also provides supplemental support for on-going mission outreach in Macedonia, especially Meals on Wheels and humanitarian outreach (water, food, clothing, blankets) to migrants/refugees.
Describe the primary goal of the project
Ideally, each partnership will set its own goals. A goal of the partnership might be, for example, within one year of beginning the partnership, to identify and agree upon a mission project that the partners will undertake together. A goal for the whole program is to have an I-M-T partner for each of the twelve churches. However, this needs to be accomplished in increments, so an interim goal is to establish one new partnership for 2016. A goal of the Meals on Wheels program is to provide a hot meal daily for 140 recipients who are elderly, home-bound, sick and/or handicapped. (This program has its own budget and funds received through this Advance are supplemental).
Contact Information
Global Ministries Contact