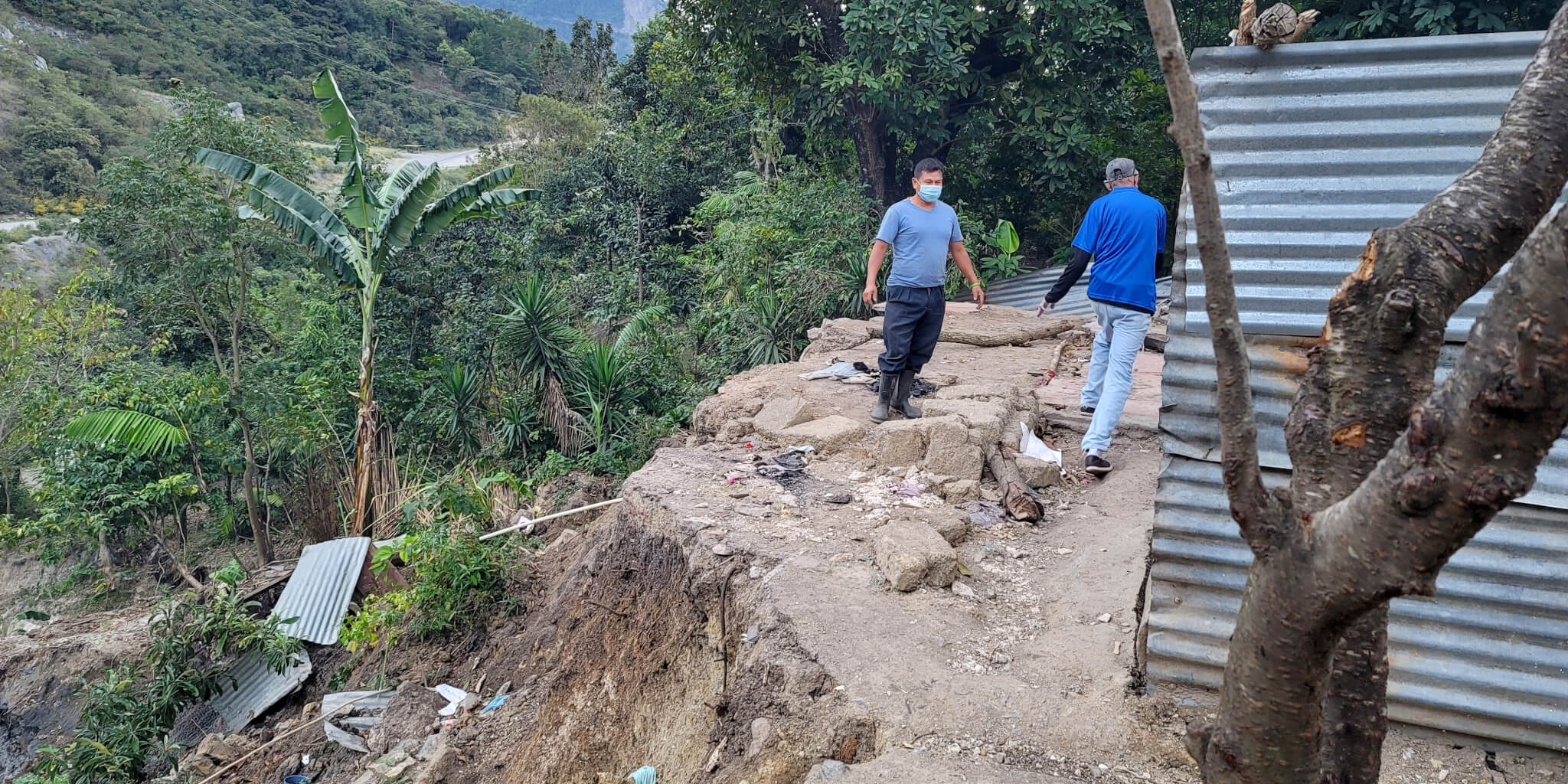 Maximo (left) inspects what is left of his house on a hillside in Cunen, Guatemala. A landslide caused by Hurricane Iota in November left little behind, but his family got out safely. PHOTO: COURTESY IENMPG
---
By Christie R. House
February 11, 2021 | ATLANTA
Maximo was attending his mother's funeral service in November when he received an urgent call from his neighbors in Cunen, Guatemala. His house on the hillside was gone after a landslide wiped it out during Hurricane Iota. It took him hours to reach the site because debris blocked the road. But his pregnant wife and three children had gotten out in time.
María de Lourdes Ramírez Mroczka, a United Methodist missionary working with the National Evangelical Primitive Methodist Church in Guatemala to distribute emergency aid in Cunen, was amazed by Maximo's deep faith as he was never without a smile. "You don't argue with God," he said. "The Lord gives, the Lord has taken away. I praise the Lord because my family is safe."
The 2020 Atlantic hurricane season produced 30 named storms and 13 hurricanes – the most ever recorded in a season, according to the U.S. National Oceanic and Atmospheric Administration. Several of the worst Category 4 hurricanes made landfall in Central American countries, affecting some of the poorest populations in Latin America. From August 2020 through January 2021, the United Methodist Committee on Relief released a series of emergency grants to Methodist and ecumenical partners to aid emergency relief efforts across Central America.
Recovery from this year of disasters will take years, but currently, emergency relief is still ongoing, with COVID-19 cases and lock-downs complicating operations. Roland Fernandes, general secretary for Global Ministries and the United Methodist Committee on Relief, reiterated UMCOR's commitment to the region.
"These emergency grants, spread out across six countries in Central America, provided emergency food, building supplies and COVID-19 protection for some very vulnerable people in deeply affected communities," Fernandes noted. "Through these grants, UMCOR is developing relationships with new partners to build a foundation for further cooperation and response."
El Salvador
El Salvador started off hurricane season in May with Amanda, a Pacific cyclone that turned out to be the worst storm for Salvadorans since Hurricane Mitch in 1998. This was followed by Hurricane Cristobal in June from the Atlantic side.
The United Methodist Committee on Relief received a grant request from the Salvadoran Lutheran Synod for a project that was notably developed and then coordinated by Synod youth groups. They went through the steps with UMCOR to identify the most vulnerable families in the communities of El Paisnal and San Salvador.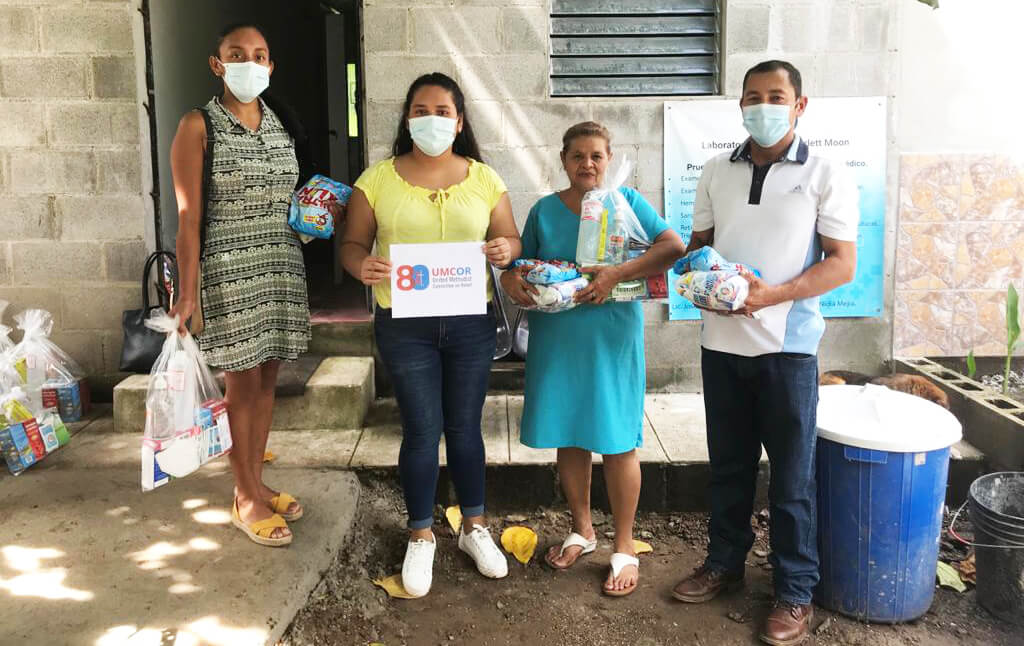 They assisted 130 families with food baskets, medicine and hygiene kits, as well as metal material (for roof repair) and small stoves. Five different youth groups coordinated delivery of the food and supplies to the families.
The youth working on relief distribution sent a note to UMCOR, saying: "We thank you with all our heart for the support you gave us for each of the people who benefited."
Nicaragua
Two Category 4 storms rolled in from the Atlantic within weeks of each other to make landfall in Nicaragua. Hurricane Eta struck on November 2 and Hurricane Iota, which reached Category 5 in the Caribbean, struck on November 17.
UMCOR partnered with Accion Medica Cristiana in Nicaragua to provide immediate food relief for residents of 11 communities in the Tasba Pri territory. Dr. Belinda Forbes, a missionary who works with Accion Medica Cristiana, confirmed that the families receiving aid were selected by the local disaster response committee (COMUPRED) and are among the most vulnerable sectors of the population: pregnant women, new mothers, families with children under five years of age, elderly residents and subsistence farmers who lost their crops.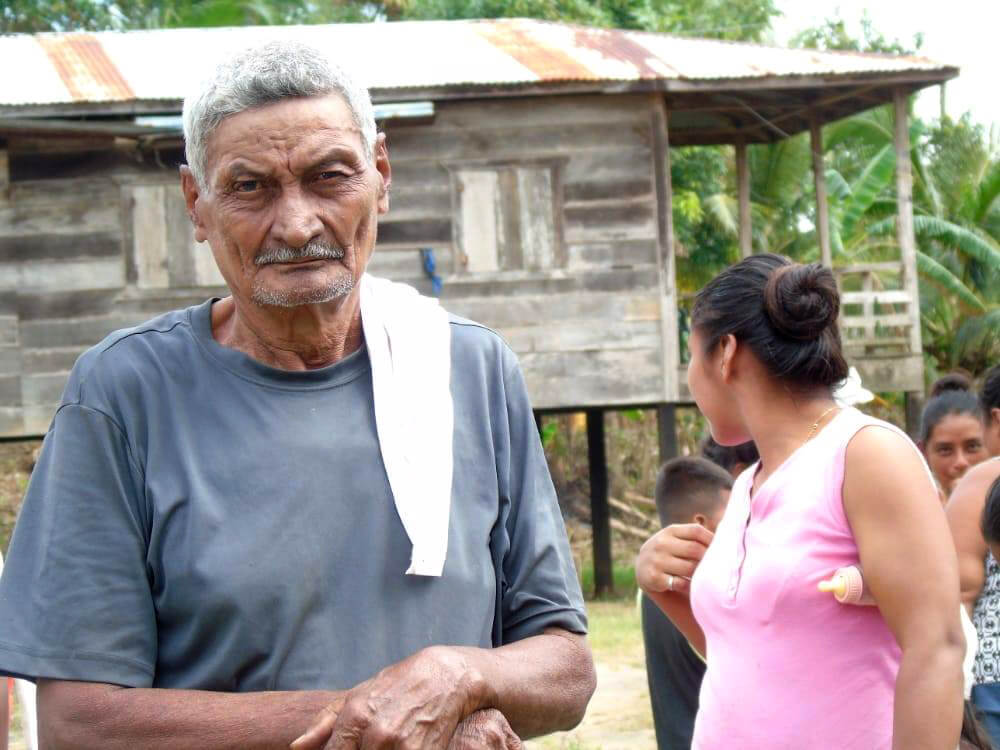 Forbes shares the story of Bessie Rios, a Miskito woman from Sahsa who lost her fruit trees: "Bessie says her children ask, 'when will we eat that fruit again?' as they talk about living through the hurricanes." Rios is part of an organized group of indigenous women that benefited in the past from UMCOR water and nutrition grants and work to support women in their community. Her family received a food aid packet from AMC.
Forbes said that the UMCOR grant, along with additional funding from the Western Pennsylvania Conference and Wilbraham United, a federated church in Massachusetts, contributed to relief for 896 families in Sahsa, in Nicaragua's largely indigenous North Autonomous Region. AMC's work in disaster preparedness equipped local community leaders with the capacity to mitigate the emergency caused by the hurricanes and facilitated the delivery of food aid to affected families.
Honduras
Hurricanes Eta and Iota affected roughly 4 million people in Honduras, about half the population. San Pedro Sula experienced severe flooding that left many stranded on their rooftops and caused landslides that wiped out crops and houses.
Yorleni Jiménez Rojas, a Global Ministries missionary serving as program director for the United Methodist Mission in Honduras, confirmed that Methodist congregations were affected but also helped in whatever ways they could. Some in San Pedro Sula and Cortés opened their doors as shelters.
Yet, three months later, many in San Pedro Sula are still homeless and hungry, living in make-shift shelters and begging on the street. "Some women told us that they refuse to go to formal shelters because there they run the risk of sexual abuse. They fear also for their daughters. They prefer to be on the streets," Jiménez said.
The UMCOR grant provided food for approximately 236 families in the communities of Cortes (Valle de Sula, Chamelecón and Villanueva) and Yoro (El Negrito and Subirana,, an indigenous village.)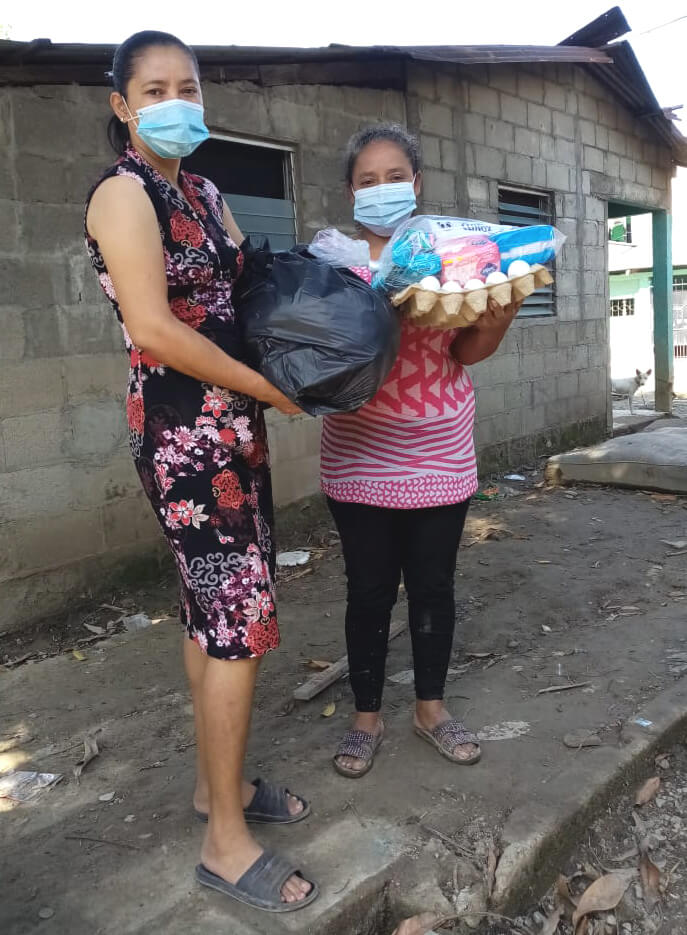 Since November, thousands continue to gather in San Pedro Sula to make the journey to the United States to ask for asylum. For many, there is nothing left in Honduras. A caravan of approximately 8,000 Hondurans left San Pedro Sula on January 15 to cross into Guatemala, but most were turned back by the Guatemalan military. Still, a few managed to cross the border, and others continue to attempt the crossing, waiting for the Guatemalan military to withdraw. Those who make the crossing successfully face more military deterrence in Mexico.
UMCOR's Global Migration unit partnered with El Refugio de la Niñez, a Guatemalan human rights organization, to provide food rations for 853 women, children and adolescents who made the border crossing into Guatemala. El Refugio has a presence in each of the migrant camps set up by the Guatemalan government along the migration route. In addition to the food rations, El Refugio provides information on the rights of migrants and identifies cases with special protection needs, such as unaccompanied minors.
Guatemala
In Guatemala, UMCOR partnered with Iglesia Evangélica Nacional Metodista Primitiva de Guatemala, the Methodist church there, to provide emergency relief for some hard-hit communities. Guatemala experienced severe flooding early in the season from Amanda and then later from both Eta and Iota.
Ramírez Mroczka, the Global Ministries missionary mentioned earlier, helps to coordinate United Methodist emergency relief operations with the IENMP church.
"In Cunen and San Juan Cotzal, where we concentrated efforts, most of the people lost their cultivated land and their chickens, and they had no running water for several days," she confirmed. "The worst cases we encountered were people like Maximo, wiped out because of landslides affecting their homes, both inside and out."
Ramírez said local Methodist pastors assisted the disaster response team and gave them the opportunity to meet, talk and pray with residents in Cunen and San Juan Cotzal. "While they were grateful for the material help, they were more grateful that we had come to listen and ask what they really needed that we could provide within our budget."
Two more grants have been released for the Methodist Church in Mexico, Tabasco Area of Southeastern Annual Conference, and the Evangelical Methodist Church of Panama. These projects are underway but are currently navigating new COVID-19 regulations before they can reach beneficiaries.
Because of climate change, bigger, more frequent storms are forecast for Central America in the foreseeable future. UMCOR is committed to walking with partners through the recovery process. UMCOR also embraces the opportunity to integrate the work of International Disaster Response and Global Migration to reach people affected by more intense and frequent storms related to the changing climate.
Gifts to UMCOR International Disaster Response and Recovery, Advance # 982450, and UMCOR Global Migration, Advance #3022144 extend UMCOR's reach around the world.
Christie R. House is a consultant writer and editor for Global Ministries and UMCOR.