Powell, Clarence Daddy's Boy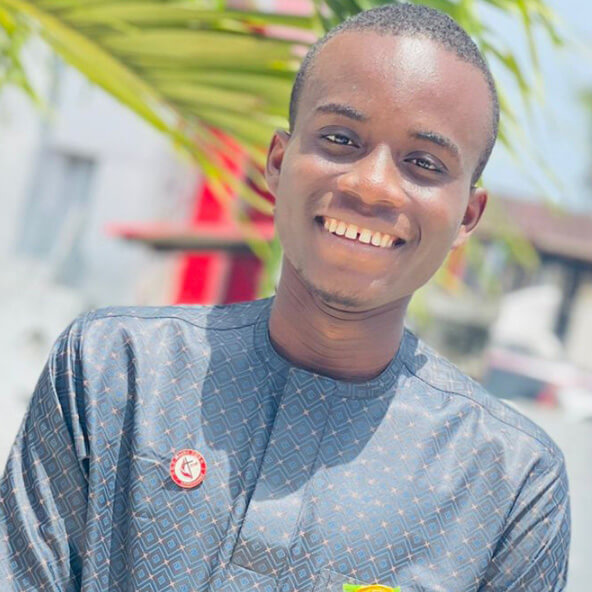 Serving At: Sierra Leone Annual Conference
Home Country: Liberia
WAYS TO REACH ME:
This person is a candidate for the GMF INT'L Track and is expected to be confirmed by October 31, 2023.
Clarence Daddy's Boy Powell is an international Global Mission Fellow with the United Methodist General Board of Global Ministries, engaged in a two-year term of service.
The Global Mission Fellows program takes young adults ages 20-30 out of their home environments and places them in new contexts for mission experience and service. The program has a strong emphasis on faith and justice. Global Mission Fellows become active parts of their new local communities. They connect the church in mission across cultural and geographical boundaries. They grow in personal and social holiness and become strong young leaders working to build just communities in a peaceful world.
Clarence is a member of Stephen Trowen Nagbe United Methodist Church, related to the Liberia Annual Conference. He served local and district youth fellowships as secretary, program chair and district membership co-chair.
He earned Bachelor of Science and master's degrees in public policy and governance from Africa University, Mutare, Zimbabwe. His dream is to pursue a master's degree in social justice advocacy.
While at the university, Clarence worked with Volunteers in Mission, focusing on food security. He supervised and coordinated 30 farmworkers and staff in implementing husbandry activities on two farms in Zimbabwe and provided technical support to farmers on food security resilience during Cyclone Idai and the COVID-19 pandemic in Zimbabwe.
In Liberia, Clarence worked with the Agrotech Liberia and BASA Development Initiatives, developing agribusiness programs and providing business-development training to small-scale farmers. He also served with Action Against Hunger as a USAID DELTA (Internship Program) monitoring, evaluation and learning officer.
"Global Mission Fellows," he said, "invites participants to live out their faith in new communities. "My most passionate social justice issue is ending hunger by 2030, which is Sustainable Development Goal number two. I believe that achieving SDG 2 (zero hunger) will lead to achieving SDG 3 (ensuring healthy lives and promoting well-being at all ages).
"A food-insecure country is most likely to enter into a crisis," Clarence continued. "To advocate and contribute to achieving SDG 2, I am aware that I have to be integrated into a new community and practice social holiness in order to be well integrated into every community regardless of their social, religious and political affiliation."
Eventually, Clarence would like to create a social justice initiative that would ensure a food- secure environment in which everyone has equal access to affordable and nutritious food. Such an initiative, he said, would equip "farmers and communities with the skills and knowledge needed to mitigate challenges facing their farms and incorporate new farming techniques, while providing communities with the skills and knowledge to get involved in food-security activities like backyard gardening and city gardening."