Purscell, Koni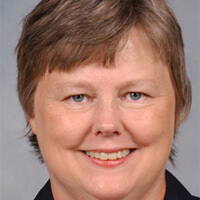 Serving At: Big Stone Gap District of the Holston Annual Conference in Southwest Virginia
Home Country: United States of America, North America
WAYS TO REACH ME:
The Rev. Koni Purscell is a missionary with the General Board of Global Ministries of The United Methodist Church, serving as a Church and Community Worker in the Big Stone Gap District of the Holston Annual Conference in Southwest Virginia.
She works in church and community renewal, providing direct support and programs for systemic change for people in this rural area. This includes work with food banks, summer gardens, children's ministries, thrift stores, and Christmas assistance for some 500 families. "We are working on new programs, including a cooking class for low-income folks," she reports.
Rural ministry has been important to Koni her entire professional life. After graduating from Morningside College, Sioux City, Iowa, and Christian Theological Seminary, Indianapolis, Indiana, she was ordained in the Christian Church (Disciples of Christ). Her previous assignment as a Church and Community Worker was to the Nebraska Rural Ministry Project in the Nebraska Annual Conference.
"I remember missionaries coming to the country church to which my family belonged when I was a child," she says. "They would show slides of places in Africa, Asia, or South America, and I would stare in wonder at the work they were doing. It fills me with awe to join that community serving the people in my own back yard."
Koni served rural churches in Nebraska, and in 1991 she and her husband, the Rev. Kenneth Purscell, accepted the call and appointment to serve as co-pastors in the Creighton-Center Parish, which includes both the United Church of Christ and The United Methodist Church. During this time, Rev. Purscell continued her studies in educational psychology and counseling at University of South Dakota, and then served five years as a home-based counselor.
Koni and her husband are the parents of two adult daughters, Karli and Kendra, who are pursuing their love of music. Karli as a music therapist and Kendra as a music educator.
Email Me