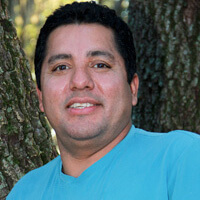 Serving At: Alabama West Florida, United Methodist Foundation, Inc.
Home Country: Mexico, Latin America and the Caribbean
WAYS TO REACH ME:
This missionary has completed service. The Advance number will remain active until January 31, 2024.
German Gomez is a missionary with the Board of Global Ministries of The United Methodist Church assigned as pastor to San Juan Mission in Clanton, Alabama, through the National Plan for Hispanic and Latino Ministries.
Some of German's responsibilities include being the pastor of mission, jail ministry, social work, and mission development. "I have a calling to preaching, teaching and discipling," German reflects. Previously, he taught Sunday School classes at the Centreville UMC in Centreville, AL, where he is a member.
German shares thoughts with us on his mission experience and how he sees God moving through his ministry: "When I see families change through the work of the Holy Spirit; when I go to the jail and preach and see the change the Lord brings to the prisoners, and when the prisoners leave the prison the Holy Spirit brings them to the church."
Born in Cuitlahuae in Veracruz, Mexico, German is married to Leticia Gomez. They have three children: Aarendy, Irais, and Aaron.