Tristán, Sergio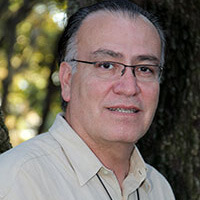 Serving At: Argentinean Evangelical Methodist Church and the Methodist Church in Uruguay
Home Country: Mexico, Latin America and the Caribbean
WAYS TO REACH ME:
This missionary has completed service. The Advance number will remain active until December 31, 2020.
Rev. Sergio Felipe Tristán is a missionary with the United Methodist General Board of Global Ministries, serving in a joint mission district of the Argentinean Evangelical Methodist Church and the Methodist Church in Uruguay. The district runs along the Uruguay River, which acts a border between the two countries. He came to his work in late 2018 after having served as a missionary through the United Methodist National Plan for Hispanic/Latino Ministries in the Great Plains Conference in the United States.One objective of the new district is to equip lay pastoral teams to respond to the ministry needs of communities in a vast area with few ordained clergy on both sides of the river. Sergio is one of three Global Ministries missionaries working with the project. He is based in Concordia, Argentina.A native of Nueva Rosita, Coahuila, Mexico, Sergio is an elder of the Great Plains Annual Conference. He received his high school diploma at the San Juan de Sabinas School in Coahuila, Mexico and then went to Guatemala with Quaker missionaries to serve and study at the Berean Bible Institute. Later, he was offered a scholarship to study at Barclay College in Haviland, Kansas. Where Sergio earned his Bachelor of Arts degree in Religion. He later attended Austin Presbyterian Theological Seminary in Austin, Texas, where he earned a Master of Divinity degree.
For many years, Sergio worked with Volunteer-in-Mission programs as translator and facilitator in México, Central America,and Spain. Sergio served as a local pastor with El Mesias UMC in Laredo, Texas; as an elder with El Mesias UMC and Calvary Presbyterian Church, both in Wichita, Kansas; and Emmanuel/El Buen Pastor UMC in Milwaukee, Wisconsin.
In 2006 Sergio became director of Hispanic Ministries with the Kansas West Conference, and in 2007 he was commissioned as a Global Ministry missionary with the National Plan for Hispanic/Latino Ministries continuing serving with the Kansas West Conference, now Great Plains Annual Conference.
In July 2010, Sergio continued his missionary service as a congregational developer for the Evangelical United Methodist Church in Garden City, Kansas. It was a renewal ministry for what is historically one of the first Hispanic/Latino congregations in the conference.
Raised in a Catholic family, Sergio becomes involved with Quaker missionaries in his hometown after completing high school. He began his ministry journey when he was invited to do mission work with the Quakers in Guatemala. He says: "It was when I saw the need of people in that area of the world—very poor in very sad conditions without God and hope. God spoke to me, and it is my calling in mission to serve and witness to others and teach them about the gospel."
Sergio and his wife, Patricia, are the parents of two children, Yitzak Eli and Sergio Emmanuel.
Email Me