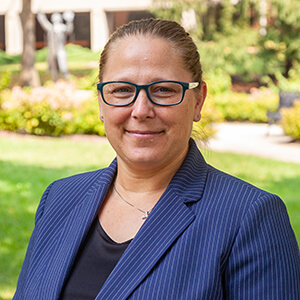 Serving At: English-Speaking United Methodist Church of Prague
Home Country: United States of America
WAYS TO REACH ME:
The Rev. Nicole Haack Sims is a United Methodist missionary with the General Board of Global Ministries, serving as the pastor of the English-Speaking United Methodist Church of Prague, part of the Czech and Slovak Republics Annual Conference.
Ordained an elder in 2001, Nicole is a member of the North Georgia Annual Conference. She earned a Bachelor of Arts degree in Christian education from Northwestern College, Orange City, Iowa (1995), and a Master of Divinity from Asbury Theological Seminary, Wilmore, Kentucky (1999). She most recently was director of community formation at Asbury Seminary. Prior to that, she was a missionary with TMS Global, serving in Ghana, the United Kingdom, Germany and the U.S., and the pastor of Hamburg International UMC in Germany.
Nicole and her husband, Kirk Sims – also a Global Ministries missionary – attended First United Methodist Church in Lexington, Kentucky. They have two teenage sons.
"My faith journey," Nicole said, "can be summed up in 1 John 4:9. Before we loved God, God loved us and sent his son, Jesus. My faith journey is a response to God's initiating love and grace toward me. What forgiveness and joy filled my heart as I responded to God's invitation as a child! Since then, I have learned firsthand 'in God's presence, there is fullness of joy.' (Psalm 16:11)
"As a follower of Jesus Christ, I get to join with God's heart for all the peoples of the earth. My heart is stirred to action by God's future vision in Revelation 7:9 – a worship gathering of people 'from every nation, tribe, peoples and languages gathering around the throne and before the Lamb.'"
Prague is an international city, whose community of English-speaking people has been very large for more than 30 years. The English-Speaking United Methodist Church of Prague was established in 2012 in partnership with a district in east Tennessee. This ministry reaches out to the new international community in the city.
The capital of Czech Republic, Prague is a metropolis with over 1.3 million people. The city draws many people from other countries for business, education and other purposes. As a result, an estimated 230,000 foreigners reside in Prague. That number is rising by about 20,000 every year. For about half of them, English is their primary language.
As a connectional church, The UMC in the Czech Republic sees a great missional opportunity to offer an English-speaking ministry, reaching people in different social strata with the gospel. This vision led the Czech UMC to establish the English-speaking United Methodist community 10 years ago.
Since then, several guest and missionary pastors have led the ministry. Although it has grown to a community of approximately 50 people, the COVID−19 pandemic had a strong negative impact, and a new initiative with long-term commitment is needed. The church building is located in the center of the city, easily accessible by public transportation. ESUMC shares the facility with Methodist Seminary´s student dormitory.