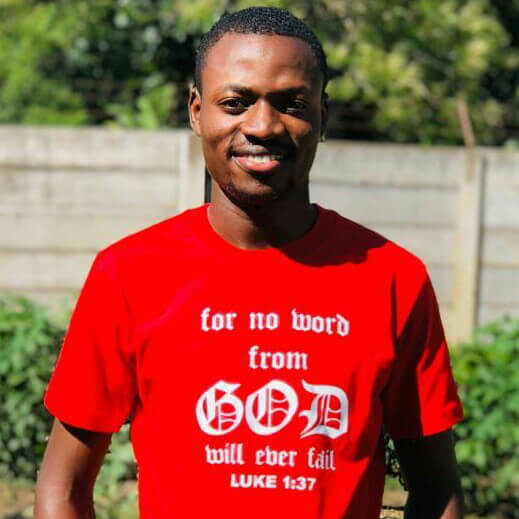 Serving At: Senegal District, of the Cote d´Ivoire Episcopal Area
Home Country: Democratic Republic of Congo
WAYS TO REACH ME:
Jack Kitwa Mujinga is an International Global Mission Fellow with the United Methodist General Board of Global Ministries, engaged in a two-year term of service.
The Global Mission Fellows program takes young adults ages 20-30 out of their home environments and places them in new contexts for mission experience and service. The program has a strong emphasis on faith and justice. Global Mission Fellows become active parts of their new local communities. They connect the church in mission across cultural and geographical boundaries. They grow in personal and social holiness and become strong young leaders working to build just communities in a peaceful world.
Jack is a member of King David United Methodist Church in Mutare, Zimbabwe. The church is related to the Zimbabwe West Annual Conference. Jack has served as vice president of youth for more than four years, and as a liturgist and a choir member. As youth vice president, Jack believes that activities that attract and help young people to grow spiritually are most important.  
Jack holds a Bachelor of Science degree in agriculture and natural management from Africa University, Mutare.
Involved in the church since childhood, Jack became serious about his participation when he joined the church choir and began leading services every Tuesday and Thursday. "I really love being a church person," he said.  
Jack's father, a pastor, was his earliest mentor. "Seeing my father preaching," he recalled, "was the best thing in my life ever.
"One of my dreams," he continued, "is to be a pastor in a United Methodist church because I feel a calling in me, and I am passionate about it."
Today, Jack focuses on his preaching and liturgist roles.
"I always feel so good whenever I am called to be a preacher or a liturgist of the day," he said. "In my point of view, there is no fire at the fireplace if no one brings a piece of wood to be burned." He feels responsible about exercising his calling.
Jack is passionate about being a voice for justice and activity in his community and the world.
"This is my gift I can give to my church as a missionary," he said. "I am an agriculturalist and naturalist, so I am willing to share my knowledge on sustainable agriculture and conservation of natural resources." Addressing food insecurity is vital, he believes.
"Food security," Jack explained, "can be defined as a state by which people have access to sufficient nutritious food. Availability, accessibility, utilization and stability compose food security elements. 
"Not everyone had the opportunity to be in school in order to develop an attitude of knowing what they deserve as their rights," Jack said. "I will use my skill by sharing with people from my community, the local church and my workplace." He hopes to organize workshops with people from different fields and backgrounds. 
"It is our duty as Global Mission Fellows," he said, "to defend communities in need of advocacy, justice and charity."