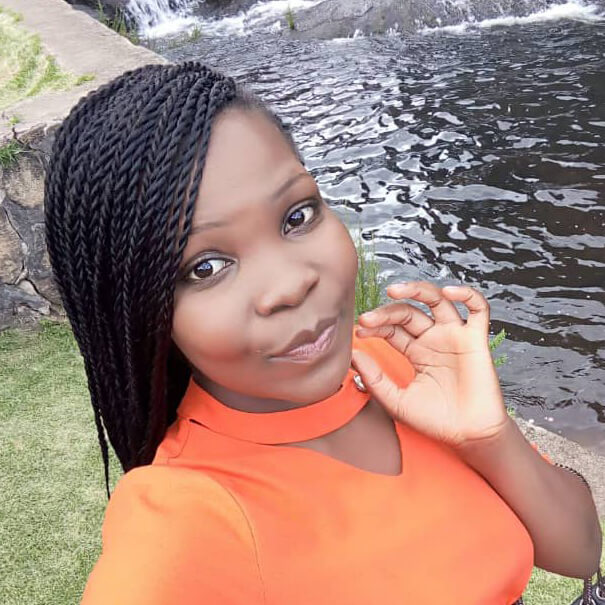 Serving At: Cameroon
Home Country: Zimbabwe
WAYS TO REACH ME:
Chiedza Purity Mubaiwa is an International Global Mission Fellow with the United Methodist General Board of Global Ministries, engaged in a two-year term of service.
The Global Mission Fellows program takes young adults ages 20-30 out of their home environments and places them in new contexts for mission experience and service. The program has a strong emphasis on faith and justice. Global Mission Fellows become active parts of their new local communities. They connect the church in mission across cultural and geographical boundaries. They grow in personal and social holiness and become strong young leaders working to build just communities in a peaceful world.
Chiedza is a member of Murewa Center Circuit of The United Methodist Church in Murehwa, Zimbabwe. It is related to the Zimbabwe Annual Conference. Most recently, she was evangelism vice chairperson of the United Methodist Youth Fellowship at Murewa Center Circuit. 
She holds a Bachelor of Science degree in peace, conflict and governance from Great Zimbabwe University, Masvingo.
"My father grew up as an orphan," Chiedza said. "He lived with relatives and worked in the fields as a way of repaying them. When he was in secondary school, he started living alone, doing piece jobs for people, paying his own fees and walking very long distances to school and back. Donations from well-wishers and a hand from the government's social welfare helped him complete his ordinary-level studies. He got a job and sponsored his college tuition."
As Chiedza's father shared his life experiences with her, she realized that not everyone is privileged to go to school and acquire basic education.
"My goal in life," the young woman said, "is to help the underprivileged in any way possible. I would not want to see anyone go through the same experiences as my father did." Chiedza's parents offered her cousins and other relatives' children food and shelter and paid for their schooling.
"They offered help and support to others," Chiedza said, "even though we were not economically stable, and they expected nothing in return. I have learned that we don't expect rewards from people, but rather, we help others with the faith that God will reward us. Since I grew up believing in helping others, I have been participating in charity programs at church and [doing] voluntary work."
Serving in a ministry focusing on sports, arts and recreation, Chiedza engaged youth in career-guidance discussions. She also accompanied the youth in visiting older adults and people incarcerated in prison. Because of this, she said, "I am able to work with youth and children, addressing issues affecting them such as school dropouts, drug abuse, child marriage, suicide, rape and unemployment. 
"As a youth leader," she continued, "I believe that helping others is also about offering emotional support, sharing love and making others happy." She also advises other less-privileged people on how to earn money amid times of economic hardship.
"I have empowered myself through entrepreneurship skills," Chiedza explained. "In my community, I do braiding and get paid for it. This has helped me to sponsor my own basic needs during my time at the university.
"I feel that I have been called to mission work to help others facing life challenges, sharing love, peace and joy, as well as empowering them with knowledge so that they can make money on their own."
As a Global Mission Fellow, Chiedza looks forward to leading and working with others without discrimination. She acknowledged that "people have different capabilities, likes and dislikes, but that does not make them less significant."