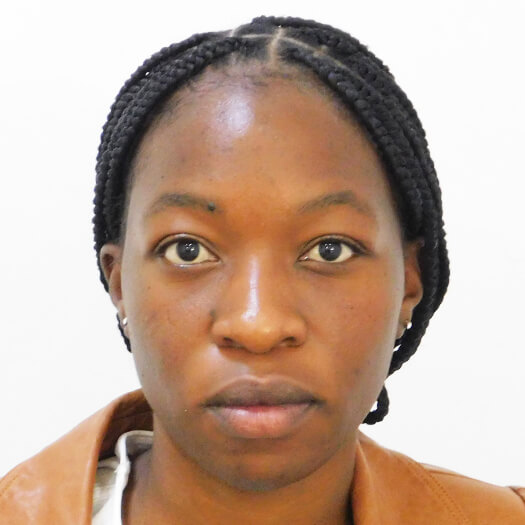 Serving At: Sebring-Mwanza United Methodist Mission Center
Home Country: Zimbabwe
WAYS TO REACH ME:
Vimbai Oliandah Mupikata is an International Global Mission Fellow with the United Methodist General Board of Global Ministries, engaged in a two-year term of service.
The Global Mission Fellows program takes young adults ages 20-30 out of their home environments and places them in new contexts for mission experience and service. The program has a strong emphasis on faith and justice. Global Mission Fellows become active parts of their new local communities. They connect the church in mission across cultural and geographical boundaries. They grow in personal and social holiness and become strong young leaders working to build just communities in a peaceful world.
Vimbai is a full member of Zimre Park United Methodist Church, Zimbabwe. The church is related to the Zimbabwe Annual Conference. As a United Methodist Youth Fellowship member in the Zimre Park Circuit, she visits the sick, children's homes and the bereaved and engages in other youth activities.
Vimbai holds a Bachelors Honors Degree in Development with Midlands State University and a Master's Degree in Human Rights, Peace, Conflict and Development with Africa University
"My spiritual growth," she said, "began with believing and following Jesus Christ. I did this through having faith. My spirituality is growing and maturing through prayer, fasting, becoming a student of God's word and teachings, sharing blessings with others and giving God glory and praise through speech, behavior and songs. I began to share with others what God has done for me."
As Vimbai draws closer to God, she noted, "This will yield the fruit in my life that God has designed for me. God brings joy and peace that defy all circumstances."
She feels called to do mission work, inviting others to learn about Jesus Christ and proclaiming the gospel around the world. "In the book of Matthew," Vimbai said, "Christ, God's only son, commanded his disciples to go and make disciples of all nations."
Vimbai believes that along with sharing the good news of Jesus Christ, she should ensure that her actions fulfill a need and are sustained after she leaves a community. "Many missionaries," she said, "focus on the needs of the communities they are serving and integrate those needs with evangelism. God's ultimate goal is for all to come to him." 
She is eager to tell and show people that she loves and cares for them, no matter what they are experiencing. "Having a servant's heart," Vimbai said, "shows that I am giving acts of service through the Lord's wisdom and not for my own righteousness.
"Missionaries bring a sense of hope through friendship, communication, counseling and love."
Email Me