Penlap , Arnold Japhet Kamdem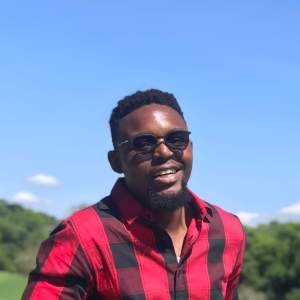 Serving At: West Angola Annual Conference
Home Country: Cameroon
WAYS TO REACH ME:
This person is a candidate for the GMF INT'L Track and is expected to be confirmed by October 31, 2022.
Arnold Japhet Kamdem Penlap is an International Global Mission Fellow with the United Methodist General Board of Global Ministries, engaged in a two-year term of service.
The Global Mission Fellows program takes young adults ages 20-30 out of their home environments and places them in new contexts for mission experience and service. The program has a strong emphasis on faith and justice. Global Mission Fellows become active parts of their new local communities. They connect the church in mission across cultural and geographical boundaries. They grow in personal and social holiness and become strong young leaders working to build just communities in a peaceful world.
Arnold is a member of Ebenezer Community United Methodist Church in Yaoundé, related to the Cameroon Mission Initiatives. In his congregation, he plays musical instruments. He holds a master's degree in public policy and governance from Africa University, Mutare, Zimbabwe.
Raised in a Christian home, Arnold acknowledged that as a child and youth, attending church activities was more like a formality to please his parents. He loved music, so enjoyed the praise and worship aspects of church. As he grew to adulthood, Arnold began understanding the church's ministries and the role of Jesus Christ in his daily activities.
As he read the Bible and studied God's teachings, Arnold said, "God put the zeal in me to read more. The teachings in the Bible, alongside the works of Jesus and his disciples, were fascinating.
"Over time," he continued, "I grew spiritually and could see myself reading my Bible for hours, praying and fasting effortlessly when needed. The things people used to testify that the Lord has done for then I also started experiencing, and it only made me grow in faith."
Injustice, inequality and political instability were part of the environment in which Arnold grew up. "People could not afford basic education," he said. "Others could not afford food to eat or a roof under which they could sleep. All of these really troubled me.
"I wanted to work toward making things better, creating a society of justice and equality. I wanted a society where people have access to education, food, shelter and other primary needs. This drive for justice, equality, fairness and stability led me to pursue the [public policy and governance] university program." 
Arnold added, "I feel called to mission work as it aligns with my personal objectives and goals and will permit me to gain firsthand professional and spiritual experience and growth."
Being a Global Mission Fellow, he said, "will give me the opportunity to do what personally speaks to me, while contributing toward the achievement of the mission's goals." 
Arnold also hopes to share skills gained as table tennis captain at Africa University. "I was responsible for organizing training sessions," he said. "I led my team and won silver medals in the Zimbabwe University Association games. As a Global Mission Fellow, I will mentor those interested in learning table tennis as it can become a recreational activity, and it is a good exercise." 
Email Me