Travis, Elyse Marie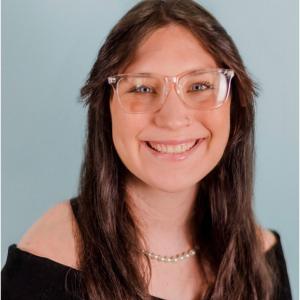 Serving At: The Noah Project, Detroit, Michigan
Home Country: United States
WAYS TO REACH ME:
Elyse Marie Travis is a US-2 Global Mission Fellow with the United Methodist General Board of Global Ministries, engaged in a two-year term of service.
The Global Mission Fellows program takes young adults ages 20-30 out of their home environments and places them in new contexts for mission experience and service. The program has a strong emphasis on faith and justice. Global Mission Fellows become active parts of their new local communities. They connect the church in mission across cultural and geographical boundaries. They grow in personal and social holiness and become strong young leaders working to build just communities in a peaceful world.
Elyse is a member of Camp Point (Illinois) United Methodist Church in the Illinois Great Rivers Annual Conference. Some recent highlights of her congregational involvement include guest preaching, leading vacation Bible school, teaching Sunday school, taking lay servant classes, and attending youth group. She holds a Bachelor of Arts degree in religion and church leadership with a minor in psychology from Central Methodist University, Fayette, Missouri.
Her original plan was to earn her degree and eventually work toward becoming an ordained elder.
Then COVID-19 hit.
"I realized God had more at stake for my life than I had originally envisioned," she said. "My college sent us home in March 2020 due to the pandemic. I attended licensing school for local pastors, and I accepted a position to Centralia UMC as the youth and children's director. I learned a new way of caring for people simply by wearing a mask and using sanitizer. I also witnessed the injustices happening within the Black community. I felt anger and hurt toward this injustice. I knew I wanted to do more to support the Black Lives Matter movement."
As school resumed, Elyse continued supporting the mask mandate and working toward racial equality. She began teaching those lessons to children at church. "I took on a new role of teaching, leading and coordinating," she said. "I realized God had given me a passion for outreach and connecting one-on-one with others. I slowly started to realize that my focus was on taking the church beyond the walls and working directly with the community.
"The year 2021 included accepting my role in the queer community," Elyse continued, "and supporting others by letting them know that they are loved by God and including them in the church. I also took an internship where I volunteered directly with at-risk youth and impoverished families. I realized I had a connection with children and a heart for populations struggling at whatever capacity." After a pastor told Elyse she should consider social justice ministry, she started discerning that calling. "I know God wants me to work with at-risk youth or impoverished families," she said.
Most recently, she worked at Chaddock Treatment Center for Traumatized Children in Quincy, Illinois. Her responsibilities included mentoring students, assisting leaders, and learning to work with children who suffer from emotional and behavioral issues. She hopes to use the experiences gained at Chaddock in her new role as a Global Mission Fellow.
Elyse expressed confidence that "Global Mission Fellows fits right into that category of helping me discern how God wants to use me as a disciple of Christ. I want to discover more gifts I have to help others and which community I can best help. Mission work allows me to use my connectional gifts and love of helping others to make that direct impact on their community. This program also allows me to work with children, impoverished families or those suffering from racial inequality.
"My spiritual growth has grown immensely these past few months," she added, "as I have prayed with God and conversed with others about the next chapter in my life. Social justice speaks heavily on my heart as I feel it is a mission from God to let others see the light of God in a world that often seems hopeless and unfair."
Email Me