Osula, Jeremiah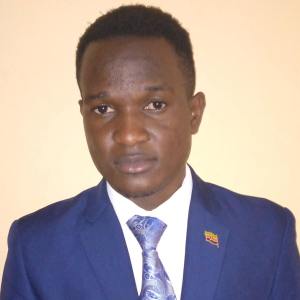 Serving At: Bwafwano Care Providers 
Home Country: Kenya
WAYS TO REACH ME:
Jeremiah Osula is a Global Mission Fellow (International) with the United Methodist General Board of Global Ministries, engaged in a two-year term of service. He is part of the 2021-2023 Global Mission Fellow cohort.
The Global Mission Fellows program takes young adults ages 20-30 out of their home environments and places them in new contexts for mission experience and service. The program has a strong emphasis on faith and justice. Global Mission Fellows become active parts of their new local communities. They connect the church in mission across cultural and geographical boundaries. They grow in personal and social holiness and become strong young leaders working to build just communities in a peaceful world. 
Jeremiah is a member of John Wesley United Methodist Church, Migori town, Kenya. The church is part of the Kenya-Ethiopia Annual Conference. He holds a Bachelor of Science degree in public health and community development from Maseno University, Kisumu, Kenya.
"I am privileged to be associated with The United Methodist Church," Jeremiah said. "I have found a great sense of identity and belonging."
As a child and youth, he attended Emmanuel United Methodist Church. It gave him "a platform to grow in stature and wisdom, favor with God and people," Jeremiah said.
Later, at John Wesley United Methodist Church, he was nurtured through youth ministry and service. "I was privileged to serve as the praise and worship team secretary, a Sunday school teacher and a health committee member," Jeremiah said.
At Maseno University, he belonged to the Christian Union and participated in community church and charity services, youth ministry, and the praise and worship team.
All of those experiences nourished him spiritually and strengthened his faith foundation.
"I've learned to be dedicated to serving God and people through my various leadership positions," Jeremiah said. "In the praise and worship ministry, one ought to have a heart for God. This has always been convicting to me because I often find myself more passionate in my prayer life. God wants us to pursue him passionately and love him with all our heart, soul, mind and strength. In the youth ministry, I learned to have a heart for people." Jeremiah strives to appreciate the sacrifices of others, connecting with them through evangelism, discipleship and prayer.
Romans 12:1 guides Jeremiah's work: "I appeal to you therefore, brothers and sisters, by the mercies of God, to present your bodies as a living sacrifice, holy and acceptable to God, which is your spiritual worship."
"Being involved in the community church," he said, "comes with a lot of responsibilities. We had to go out for missions, door-to-door ministry, praying with the people, helping the less-fortunate and winning souls to Christ. We aligned ourselves to Acts 1:8. We took that responsibility of being Christ's witnesses wherever we were."
Jeremiah especially loves children's ministry. "Working with them," he said, "is the greatest of all. They are honest, humble and cheerful, and they carry with them joy unspeakable. As Christians, we are required to serve by example just as Jesus Christ served."
Email Me