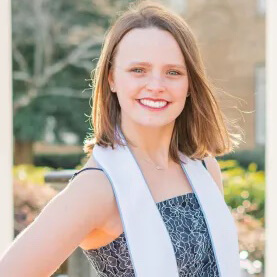 Serving At: First United Methodist Church of Miami, Florida
Home Country: United States
WAYS TO REACH ME:
This missionary has completed service. The Advance number will remain active until January 31, 2024.
Amber Kupfer is a Global Mission Fellow (US-2) with the United Methodist General Board of Global Ministries, engaged in a two-year term of service. She is part of the 2021-2023 Global Mission Fellow cohort. 
The Global Mission Fellows program takes young adults ages 20-30 out of their home environments and places them in new contexts for mission experience and service. The program has a strong emphasis on faith and justice. Global Mission Fellows become active parts of their new local communities. They connect the church in mission across cultural and geographical boundaries. They grow in personal and social holiness and become strong young leaders working to build just communities in a peaceful world. 
Amber is a member of St. Stephen United Methodist Church, Charlotte, Western North Carolina Annual Conference. She holds a Bachelor of Science degree in biology from the University of North Carolina at Chapel Hill. 
Baptized and confirmed in The United Methodist Church, Amber was involved from a young age, participating in preschool, choir, handbells, sports and serving as UMYF president.  
"I felt like most of my K-12 years were spent just doing what I thought a 'good' Christian should do and going with the flow," Amber said. "It was not until I went on my first international mission trip that I learned what it meant to be a follower of Christ." 
In the village of Xeabaj, Guatemala, Amber worked alongside local people to build a new church. "Worshipping in two completely different languages," she said, "I felt God surrounding me and pure joy flowing between one another. I was so moved that the following year I returned to further grow relationships with locals." 
On her next mission journey, Amber helped to build stoves. Seeing her hosts' humble homes, she was reminded, "Christianity is not about material things but about the way we live our lives."  
In college, Amber recognized her need for a church community. "The first, and only, religious group I joined on campus was UNC Wesley Campus Ministry," she said.  "I especially loved my small group because it allowed me to open up more and ask the uncomfortable, taboo questions that I had about the Bible. It was comforting to know others felt the same way and also struggled with ideas expressed in the Bible and yet still have such strong faith." 
A few weeks before the spring-break mission journey to Nicaragua, a space opened up for another participant. "Within hours," Amber said, "I was preparing to go to Nicaragua, getting vaccines, getting things from my home up to school. I think this was the real moment I felt God calling me to mission work. God's plan is not always my plan; yet, it always works out better than I could have expected." 
As a sophomore, Amber participated in a mission journey to Puerto Rico. The following year, she convinced her closest friends to return with her. "Sharing my love for service with my friends was really important," she said, "and it soon became clear that this was something I needed to continue doing. God is calling me to service, and it is not something I can shake off."