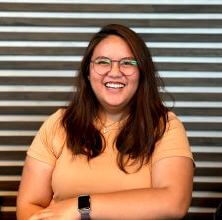 Serving At: Cambodia Centre for Peace and Conflict Studies (CPCS)
Home Country: Philippines
WAYS TO REACH ME:
This missionary has completed service. The Advance number will remain active until January 21, 2024.
Venus Mae Gatdula is a Global Mission Fellow (International) with the United Methodist General Board of Global Ministries, engaged in a two-year term of service. She is part of the 2021-2023 Global Mission Fellow cohort.
The Global Mission Fellows program takes young adults ages 20-30 out of their home environments and places them in new contexts for mission experience and service. The program has a strong emphasis on faith and justice. Global Mission Fellows become active parts of their new local communities. They connect the church in mission across cultural and geographical boundaries. They grow in personal and social holiness and become strong young leaders working to build just communities in a peaceful world. 
Venus is a member of the Wesley United Methodist Church, Olongapo City, in the Central Luzon region. The congregation is affiliated with the West Middle Philippines Annual Conference. She holds a Bachelor of Science degree in industrial and organizational psychology from Polytechnic University of the Philippines, Santa Mesa, Manila. 
Venus believes God has called her to serve with God's people. "In his letter to the Ephesians," Venus said, "Paul urged us to live a life worthy of our calling." Created in God's image, we are to reflect God's character, she noted.
She accepted Christ at age 9, during a tambourine-dance training at church. At first, she didn't understand the importance of this decision, but three years later, in 2006, she participated in her first Christmas Institute, a youth camp in the Philippines that happens every Dec. 26-30.
On the second night, after the lecture, the pastor started an altar call. "Right in front of me," Venus recalled, "was a guy who was also a first-time attendee. He was on his knees, surrendering his life to Christ." This was the first time she felt her heart strangely warmed, and the experience led to one of her greatest hopes: to help others have the same experience with Christ.
"The Lord has continually challenged and enhanced my faith as I try to live a life worthy of his calling," Venus said. At first, she struggled with defining what was acceptable as a Christian. When she asked a church leader about God, he replied, "Don't ask questions that will make you question your faith."
But Venus is grateful that God introduced her to people who changed her perspective. "My closest friends and those whom I know would die for me if need be are those whom our church brands 'worldly,'" Venus said. "I have had so much exposure that allowed me to question my faith and, in turn, come out stronger in my relationship, not only with God but also with my loved ones."
"My faith has been tried and tested, and although sometimes it gets harder to bounce back from a state of defeat, God's faithfulness in me never fails to pull me up whenever I'm at rock bottom."
"I am still evolving and growing in faith," Venus continued, "and I don't think that will ever stop, nor do I want it to."