Be, Syna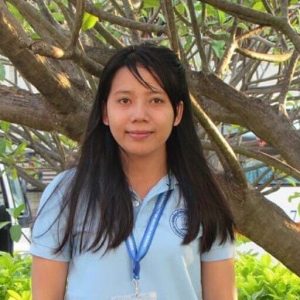 Serving At: Asuncion A. Perez Memorial Center, Inc
Home Country: Cambodia
WAYS TO REACH ME:
Syna Be is a Global Mission Fellow (International) with the United Methodist General Board of Global Ministries, engaged in a two-year term of service. She is part of the 2021-2023 Global Mission Fellow cohort. She serves as Coordinator for Ministry with Women, Youth and Children.
The Global Mission Fellows program takes young adults ages 20-30 out of their home environments and places them in new contexts for mission experience and service. The program has a strong emphasis on faith and justice. Global Mission Fellows become active parts of their new local communities. They connect the church in mission across cultural and geographical boundaries. They grow in personal and social holiness and become strong young leaders working to build just communities in a peaceful world. 
Syna is a member of Truth Methodist Church in Kampong Chhnang province, Cambodia. She holds an associate degree in nursing from the University of Health Sciences and a Bachelor of Science, also in nursing, from International University. Both schools are in Phnom Penh.
Recalling Jesus' Great Commission in Matthew 28:19-20 Syna said, "Many people need to hear the gospel. God wants me to [share with] people who not yet heard the gospel.
Raised in a non-Christian family, Syna is grateful for God's presence in her life.
When Syna was at the university, her brother suffered from mental illness. He prayed to God and began believing in the healing power of Jesus. She was angry and skeptical about his newfound faith.
"He brought me to church to worship God," she said. She experienced joy and happiness but still was unsure about her faith. Then she participated in Christian seminars and witnessed the faith of other young adults.
"I wanted to know about God," Syna said. She began studying the Bible and joining other Christian seminars. "I understood that God loves me; God always hears my prayer and answers my prayer. I became a new person in Jesus Christ," she said.
Reading Matthew 6:33 about seeking God first, Syna asked God to help her to continue her education. "I believed this word," she said. "God answered my prayer. I got a scholarship to study at the university."
A Korean missionary supported the dormitory in which Syna lived. "She always focused on me and other students to worship God and obey God," Syna said. During dorm devotions, Syna said, God opened her heart.
"God is my Savior," she said. "I am an ordinary girl adopted by the highest God. I call him 'Abba, father.'" When other students persecuted Syna because of her faith, she did not waver.
"I am a firm believer that at the end of the day, God's word and truth are what truly govern a Christian's life," Syna said. When her was father died of cancer in 2017, she shared her faith. Her father accepted Jesus and was baptized.
"Through this situation, God opened my mind to realized that this world  is not our real place," Syna said. "Most people do not seek the kingdom of God; they try to pursue their own interests.
"I realized that I could not live for myself but for the kingdom of God and for others," she added. "Even though I am not a pastor, I want to serve God, spread the good news through my mission work." 
Email Me