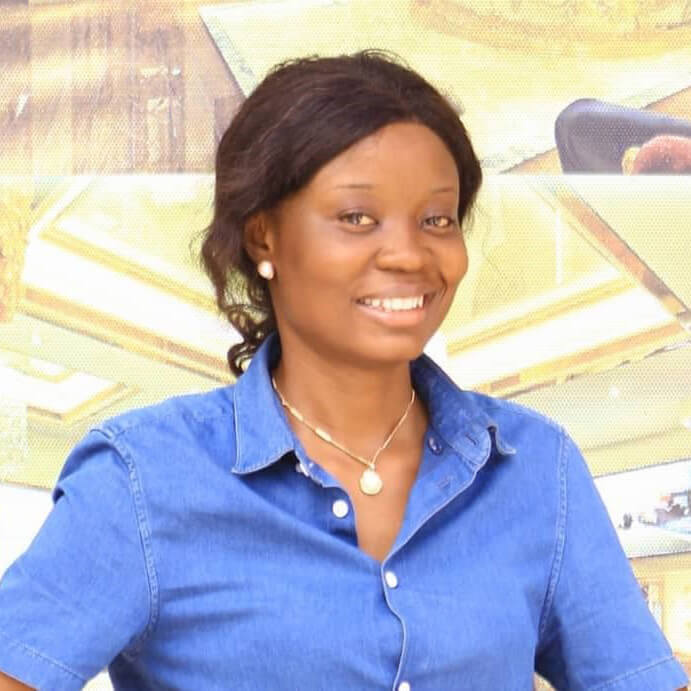 Serving At: The Surf Project
Home Country: Democratic Republic of the Congo
WAYS TO REACH ME:
This missionary has completed service. The Advance number will remain active until January 21, 2024.
Isabelle Mbako Matshik is a Global Mission Fellow (International) with the United Methodist General Board of Global Ministries, engaged in a two-year term of service. She is part of the 2021-2023 Global Mission Fellow cohort.  She serves as Events and Wave Program Coordinator.
The Global Mission Fellows program takes young adults ages 20-30 out of their home environments and places them in new contexts for mission experience and service. The program has a strong emphasis on faith and justice. Global Mission Fellows become active parts of their new local communities. They connect the church in mission across cultural and geographical boundaries. They grow in personal and social holiness and become strong young leaders working to build just communities in a peaceful world.  
Isabelle is a member of St. Barnabas United Methodist Parish in Lubumbashi, Kinshasa, South Congo Annual Conference. She is a member of the youth group and a Sunday school teacher. She earned a Bachelor of Science degree in international economics from Zhejiang University, Hangzhou, China, and a Master of Business Administration degree from Shanghai Jiao Tong University, also in China.
"My call story may be similar to my faith story," Isabelle said. "I grew up in a Methodist Christian family. My parents were fervent Christians. Everybody went to church. In my community church, there were a lot of genuine people like my Sunday schoolteachers who really loved and followed Jesus, and their lives showed it."
Isabelle's parents and Sunday schoolteachers inspired her to take ownership of her faith and life during a church youth retreat in 2005.
"It was a profound and very meaningful emotional experience," she said. "The teacher was speaking about salvation. In that moment, I felt the Holy Spirit. I had no choice but to put my trust and hope in Jesus forever. I recognized the sins that were hindering my fellowship with God and realized that my efforts couldn't fix the problem." She chose then to rely on God's grace.
"My life hasn't been without sin since placing my faith in Jesus," Isabelle said, "but the Holy Spirit working within me has transformed my life forever.
"Now I make decisions differently," she continued. "I realize the sin in my life, but earnestly hope to live a life marked by humble submission to God. I cling to God's word and desire to be truly, deeply and emotionally formed by the Bible. I live in communion with other believers and hope to see Jesus impact every area of my life. My faith journey hasn't always been smooth, but I believe in the power of the cross."