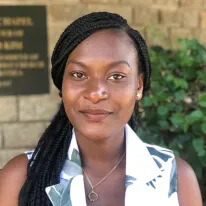 Serving At: The Council of Churches
Home Country: Democratic Republic of the Congo
WAYS TO REACH ME:
This missionary has completed service. The Advance number will remain active until January 21, 2024.
Doel Kumwimba Kaloa is a Global Mission Fellow (International) with the United Methodist General Board of Global Ministries, engaged in a two-year term of service. She is part of the 2021-2023 Global Mission Fellow cohort. 
The Global Mission Fellows program takes young adults ages 20-30 out of their home environments and places them in new contexts for mission experience and service. The program has a strong emphasis on faith and justice. Global Mission Fellows become active parts of their new local communities. They connect the church in mission across cultural and geographical boundaries. They grow in personal and social holiness and become strong young leaders working to build just communities in a peaceful world. 
Doel is a member of Kamina-Ville United Methodist Parish, Kinshasa, DRC. The church is part of the North Katanga Annual Conference. She holds a Bachelor of Arts degree in English and communication studies from Africa University, Zimbabwe.
"Growing up in The United Methodist Church and being a pastor's daughter," Doel said, "I was raised in a Christian family and surrounded by a God-fearing community that inspired me to take the path of the Lord always in my life."
Although she was surrounded by churchgoing people and participated in family prayer, Doel admitted, "I didn't really have a strong personal relationship with God."
Involvement in the church choir and the United Methodist youth group, Doel said, "helped me to grow personally and spiritually. I had the opportunity to receive some teachings concerning the Bible, preaching and social life.
"We had a prayer retreat," she said, "where our pastor preached and conducted us in a deep prayer. That day I felt new, and my life changed because I personally received Jesus Christ as my Lord and Savior. I started preaching, leading prayers in my choir and the youth movement, reading the word of God and being inspired." Taking part in an intercessory prayer group also contributed to her spiritual development.
"The morals, ethics and teachings that have been instilled in me from the time I was a young girl up to now, as a young woman, continue to be a guiding factor toward my decisions on a daily basis," Doel said. 
"I have a passion to serve and to make a positive change in the community," she added. "I feel concerned where there's oppression, discrimination or people in need. I believe that serving is a way of spreading the love and joy of our Lord Jesus Christ to his people."
Doel heard about the Global Mission Fellows program during a young people's leadership seminar. A former GMF, Dan Shamusa, spoke to the group – and to Doel's heart.
"Since that day," she said, "I feel that by joining this program, I can bring much-needed change to the community."