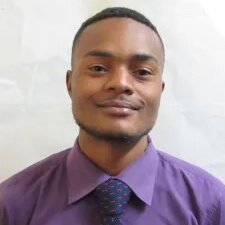 Serving At: Faith and Justice Network
Home Country: Zimbabwe
WAYS TO REACH ME:
This missionary has completed service. The Advance number will remain active until January 21, 2024.
Divine Kudzai Gaga is a Global Mission Fellow (International) with the United Methodist General Board of Global Ministries, engaged in a two-year term of service. He is part of the 2021-2023 Global Mission Fellow cohort.    
The Global Mission Fellows program takes young adults ages 20-30 out of their home environments and places them in new contexts for mission experience and service. The program has a strong emphasis on faith and justice. Global Mission Fellows become active parts of their new local communities. They connect the church in mission across cultural and geographical boundaries. They grow in personal and social holiness and become strong young leaders working to build just communities in a peaceful world. 
Divine is a member of St. James United Methodist Church, Mutare, Dangamvura Circuit, East Zimbabwe Annual Conference. In his congregation, he is recreational chair of the United Methodist Youth Fellowship and a media team member, creating and publishing content. Divine earned a Bachelor of Arts degree in history and communication from Catholic University of Zimbabwe in Harare.
Raised in a Christian home, Divine became a born-again Christian as an adult. "During my childhood," he said, "I went to church because I feared the idea of going to hell. I also went because I was afraid that my parents would punish me if I didn't go, and the two fears acted as my greatest motivators."
Although he began to understand and adopt church etiquette, "the spiritual part of me developed at a tortoise pace," he said. "I witnessed miracles and amazing things happening before my very eyes but never thought it would happen to me. I believed in the existence of God and acknowledged that the devil was indeed evil and the best that I could do to stay in the light was by avoiding sin at all costs."
Focusing on trying not to sin, Divine still didn't understand that God would answer his prayers. Nor did he believe that preaching God's word was the responsibility of every Christian. At age 14, Divine went away to boarding school.
"The Christian environment was still vivid," he said, "but the sense of free will was much greater. To a significant extent, I had the freedom to make individual choices in terms of religion." Struggling with finances, he heard a sermon about trusting in God. Deciding he had nothing to lose, he decided to pray. To his surprise, his constant prayers started reaping results.
"I reflected on my prayers and noticed that everything was falling into place at the exact time I needed them to do so," Divine said. "At this point, upon realization that this could only be God and he had answered my prayers, I broke down in tears. I was so amazed that in his ultimate holiness, God could really answer my prayers."
This led to another stage of his spiritual journey in which he questioned what he had done to deserve so much favor and blessing from God.
"I was confronted with the hunger to serve Christ," Divine said. "I have since taken every opportunity to do so, using whatever is available at my disposal."