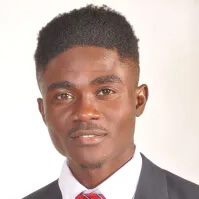 Serving At: Pilgrim Wesleyan Church
Home Country: Nigeria
WAYS TO REACH ME:
Albarka Abbo Wakili is a Global Mission Fellow (International) with the United Methodist General Board of Global Ministries, engaged in a two-year term of service. He is part of the 2021-2023 Global Mission Fellow cohort.   
The Global Mission Fellows program takes young adults ages 20-30 out of their home environments and places them in new contexts for mission experience and service. The program has a strong emphasis on faith and justice. Global Mission Fellows become active parts of their new local communities. They connect the church in mission across cultural and geographical boundaries. They grow in personal and social holiness and become strong young leaders working to build just communities in a peaceful world.  
Albarka is a member of Abuja United Methodist Church, Jalingo, Taraba State, Nigeria. The church is part of the Southern Nigeria Annual Conference. Albarka is involved in the youth ministry and teaches Sunday school. He earned a Bachelor of Arts degree in English and communication studies from Africa University, Zimbabwe.
"My personal spiritual growth," Albarka said, "is deeply rooted from my understanding of faith and conviction in the possibilities of the grace of God upon my life. I have steadily grown and continued to mature in my faith in Jesus Christ, and putting that unwavering faith into actions that involve sharing myself with others through love, care, support and service."
During his first year of high school, Albarka had an encounter with Christ. "I have since continued to receive the exceeding grace of God," he said, "which gives me the spiritual strength and stamina to soar and succeed in my endeavors."
Active in United Methodist youth and young adult ministries in Nigeria, Albarka served as the music director, coordinating praise and worship events, night vigils and rallies. In high school, he was the Bible studies secretary of the Fellowship of Christian Students. At Africa University, he volunteered to teach English-language classes to students from French- and Portuguese-speaking countries.
"My constant commitment to following Christ has transformed my life for the better," Albarka said. "This divine intervention and spiritual calling shaped me to live and coexist with diverse people, living together as one, sharing Christ's love and serving the community."
Albarka is excited about his GMF role. "I believe the Global Mission Fellows program is geared toward developing young people like me who are passionate about answering God's call to be different," he said.
"I feel called to mission work because of the yearning and continuous desire to make and be the difference in the positive transformation of individuals, communities and the world at large," he added. "I feel called by my irrepressible desire to answer God's resounding call by immersing myself deeply in the day-to-day activities of a new community; thereby growing in spirit, truth, faith and service."
Email Me