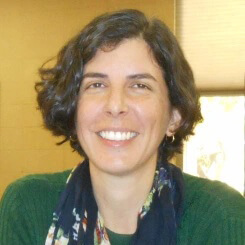 Serving At: Universidad Bíblica Latinoamericana
Home Country: United States
WAYS TO REACH ME:
This missionary has completed service. The Advance number will remain active until January 31, 2024.
Ann M. Hidalgo is a missionary with the General Board of Global Ministries of The United Methodist Church.
Hidalgo is assigned to the Universidad Bíblica Latinoamericana in Costa Rica, where she is a professor of theological sciences.
Beginning her career in church music, Hidalgo worked in academia for six years, both as an educator and in library science, which fed her love for research and lifelong learning. An articulate speaker, she has written on feminist theology, as well as addressing issues of race and colonialism in theology in other publications. Hidalgo has served as a board member for the Journal of Feminist Studies in Religion and an editor for Perspectivas, a bilingual journal of the Hispanic Theological Initiative. She brings a collaborative and interactive approach to teaching and enjoys creating space to learn from her colleagues and students, giving others the tools to begin inclusive and dynamic conversations.
Born in Cleveland, Ohio, Hidalgo most recently lived in Columbus. She holds a bachelor's degree in music history and literature/piano from Baldwin-Wallace College; Master of Arts, historical musicology, University of Michigan; Master of Arts, practical theology, University of San Diego; Master of Library and Information Science, San Jose State University; and a doctorate in religion, ethics, and society, Claremont School of Theology. She is a member of Just North United Church of Christ in Columbus, Ohio. Hidalgo is married to Wally Burman.
She has worked as an acquisitions library (2016-19) and an adjunct professor (2017-20) at Claremont School of Theology and as Mary P. Key Diversity Resident Librarian (2019-20) at Ohio State University.
"My earliest memories of attending church," Hidalgo said, "bring to mind the melodies and lyrics that shaped my faith. I began studying music at a young age and majored in music in college. Looking back, I recognize that I was being called to ministry through the music."
As a young adult, she worked in campus ministry at the University of Toledo in Ohio. Video-recording academic lectures, she learned about Christian feminist theology. "These lectures," Hidalgo recalled, "planted a seed that led me to graduate study in theology." She said her graduate work transformed her life and her faith. "It is only by understanding how our well-intentioned words and actions have caused harm to others," Hidalgo said, "that we can choose to speak and behave differently."
Describing her call to mission, Hidalgo said that as she taught courses on feminist theologies in developing nations, postcolonialism and religion, ecofeminist theologies and Latinx religious experiences in the United States, she realized that such topics "are tools for diagnosing the problems that exist within our societies and within our churches."I feel called to teach students who recognize their own calls to ministry," she continued. "At the Universidad Bíblica Latinoamericana, I look forward both to teaching and to learning from my students as we strive collaboratively to live the gospel more faithfully."