Buck, Natalie F.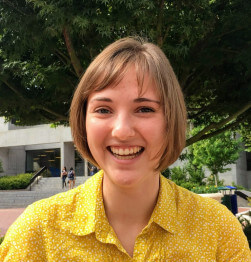 Serving At: Arch Street United Methodist Church of Philadelphia
Home Country: United States
WAYS TO REACH ME:
Natalie Buck is a US-2 with the United Methodist General Board of Global Ministries, engaged in a two-year term of service. She was commissioned in August 2020.
The US-2 program takes young adults ages 20-30 out of their home environments and places them in new contexts for mission experience and service. The program has a strong emphasis on faith and justice. US-2s become active parts of their new local communities. They connect the church in mission across cultural and geographical boundaries. They grow in personal and social holiness and become strong young leaders working to build just communities in a peaceful world.
Natalie is from Decatur, Georgia. She is a member of Oakes (North Dakota) United Methodist Church in the Dakotas Annual Conference. She holds a bachelor's degree from the University of North Dakota, Grand Forks, and a Master of Divinity degree from Candler School of Theology, Emory University, Atlanta, Georgia.
Natalie's faith journey began as a child attending Sunday school in Oakes, her hometown, but it was strengthened when she went to church camp. "I went to Lake Poinsett Camp every summer from fourth grade through 12th grade," she said. "Camp was where I felt loved by my counselors and fellow campers, and I was able to think more deeply about God's love. Camp was where I first experienced a call to ordained ministry. Nature, close relationships and mentors have continued to be important to my spiritual life as a seminarian."
Natalie saw her theology begin to focus more on justice and holistic health as an undergraduate student. After struggling to belong within one campus minsitry and  then being welcomed into another campus ministry, Natalie understood how both love and justice are needed so that the church can properly welcome all people who are being  harmed. She said, "I started to see the Bible as Scripture for people who had been harmed and were seeking wholeness in community. I started to see how my faith extended beyond my own beliefs to include other people who needed to find holistic health, justice and love."
Taking these new perspectives to seminary, Natalie found she was not alone. "By talking to professors and other seminarians who want to live in communities that center on love and justice," she said, "I am seeing how God is calling me to find wholistic health and wellness for myself. I'm focusing on how I can find balance between God, others and myself so that I can participate in God's work of love for the whole world."
During Natalie's second year at Candler School of Theology, she worked at Neighborhood Church, a United Methodist church plant in Atlanta. "I co-facilitated a discipleship small group that focused on faith narratives," she said. "I was grateful that the curriculum asked us to focus on how all of our spiritual experiences have led us to our current theology, even if these spiritual experiences occurred outside of church settings. If God is at work in people's lives before they identify as Christians, then I want to celebrate how God is at work in communities around the world. I believe that God is always in motion, reaching out to all of us. I celebrate that the Holy Spirit is at work in people throughout their lives, regardless of the language or framework we might have for these experiences. I am excited to witness God moving in other people's lives through my experience as a US-2."
Email Me