Schneider, Carolyn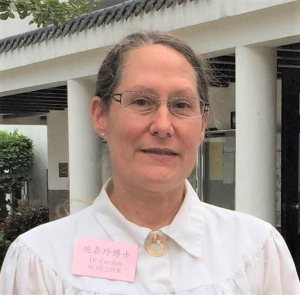 Serving At: Center for Christian Formation, Union Theological Seminary, Cavite, Philippines
Home Country: United States of America
WAYS TO REACH ME:
The Rev. Carolyn May Schneider is a United Methodist missionary with the General Board of Global Ministries serving as seminary faculty and convener of the Center for Christian Formation at Union Theological Seminary, Cavite, Philippines.
Global Ministries missionaries teaching at Union play an important role in developing academic programs and strengthening relationships with church and community. Methodist and Presbyterian missionaries founded the seminary in 1907. Jointly owned today by The United Methodist Church and the United Church of Christ in the Philippines, Union strives to produce pastors who have a strong biblical foundation, sharp theological articulation and ability in practical application. The seminary needs faculty members with doctoral degrees to address areas such as pastoral care and counseling, Old Testament and Christian education, as well as congregational development, church history and spiritual formation.
Rev. Schneider will focus on leadership development. Her career has given her diverse exposure to academia, teaching church history at seminaries in Egypt and Hong Kong. A lifelong learner, she has developed adaptation skills that allow her to give and receive in her community. She grew up in the Lutheran church, which stimulated her love for church history and doctrine. As a teacher in Texas, she became connected with a local United Methodist congregation (Travis Park, San Antonio) and appreciated its approach to ministry and mission. An accomplished author, she has taught students from different language backgrounds and draws on her experience of learning other languages to journey with her students.
Born in Quezon City, Philippines, Rev. Schneider grew up in the Evangelical Lutheran Church in America. She is an ordained pastor of the ELCA and a member of Trinity Lutheran Church, Madison, Wisconsin, part of the South-Central Synod of Wisconsin, ELCA.
Rev. Schneider earned a Bachelor of Arts degree in history from Concordia College, Bronxville, New York, in 1985; Master of Divinity, Lutheran School of Theology at Chicago, Illinois, 1992; and a Ph.D. in history of doctrine, Princeton (New Jersey) Theological Seminary, 1999.
Prior to her present assignment, Rev. Schneider served as associate professor of theology, Texas Lutheran University, Seguin, Texas (1999-2011); associate professor of church history, Lutheran Theological Seminary, Tai Wai, Hong Kong (2014-18); and online-course facilitator in "Getting Down to Basics: The Augsburg Confession and the Small Catechism" (2018-19).
"One of my favorite aspects of Christian theology," Rev. Schneider says "is the doctrine of 'vocation' (calling), which involves paying attention in three directions: to oneself and what one likes to do and does well, to others and what they may need, and to God and how God's word might be speaking in any given situation. Our calling is a three-way call. When I think about myself, I see someone born in the Philippines, the child of a missionary, who breathed in the reality of a global church before knowing anything about it. This has resulted in a love of history, particularly church history, that connects us with those of the past in all parts of the world.
"I have tried to use this to help the church stay connected across the globe, especially where it might be easy for Christians to feel abandoned, on the one hand, or for Christians to let go of churches in the rest of the world and forget our global nature, on the other hand. I have been privileged to visit and to work with the church in other countries and to help churches in the U.S. realize their connections with other Christians around the world.
"Increasing awareness of the broader church is very important to me," Rev. Schneider adds, "because I believe that it preserves people from a false definition of the church, from fear of people in other countries, from a perspective that is too narrow and from obsession over small things. I find that creative energy is released when Christian communities in any part of the world recognize that they are not alone but have brothers and sisters everywhere with many different talents, needs, resources, theological insights and life wisdom to share."
Email Me