Jimenez Rojas, Yorleni R.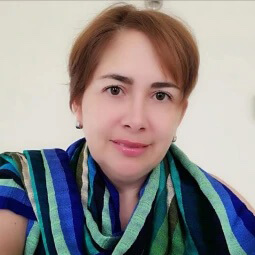 Serving At: United Methodist Mission in Honduras
Home Country: Costa Rica – San Josè
WAYS TO REACH ME:
Yorleni R. Jiménez Rojas is a United Methodist missionary with the General Board of Global Ministries serving as the mission program director for the United Methodist Mission in Honduras. She is based in Tegucigalpa, Honduras.
Ms. Rojas' program focuses on congregational development. Her primary responsibilities are developing, promoting, implementing and reviewing strategic directions for programming; working with Honduran entities in advancing general programming; and identifying and administering mission funds congruent with programming.
Although Methodism came to the northern coast of Honduras 100 years ago through British Methodism, and later with the Methodist Church of the Caribbean and the Americas, it is fairly new for the Honduran Spanish-speaking community. The mission in Honduras began in 1998. In 2002, the Honduras Initiative officially became a United Methodist mission. It currently includes 19 congregations and 53 faith communities. As an emerging new church, the mission is showing urgent need for pastors and the development of clergy and lay leadership.
The Honduran Mission constituency is largely composed of economically marginalized people with limited formal education. One area getting Ms. Rojas' attention is in-country networking and alliances with other secular, nongovernmental and Honduran religious organizations. Fostering those relationships not only strengthens the Honduran Mission with national resources, but also continues to forge its Honduran identity and empowers the cultural aspect of the mission. Ms. Rojas' position is crucial in guiding the Honduran Mission to maturity.
Born in Costa Rica, Ms. Rojas was 8 years old when her family converted to Christianity. Passionate about studying the Scriptures, she said, "I had a burning desire to serve God." As a youth, she taught Sunday school and encouraged others to follow Jesus. Entering the university, she began studies in psychology and journalism. "I had a strong desire to help others," she recalled, "and psychology was a good medium for it. The journalism career I left aside because of economic limitations." She earned a psychology degree from the University of Costa Rica and started pursuing a master's degree with an emphasis on the Old Testament.
Prior to her current assignment, Ms. Rojas was a psychotherapist at Casa Main Project, working with girls ages 2 to 12 who had suffered abuse. She helped to plant and served as a pastor of Jesucrista Pan de Vida (Jesus Christ Bread of Life), an independent church. In charge of Christian education, she also preached. She experienced what she called "a second stage of questioning in my Christian pilgrimage, which had been characterized by much service. I began a search to find a genuine Christian spirituality, centered on being and not so much on doing (activism)," she said. "This helped me to a deeper understanding of our human nature, in contrast to the divine nature, and to be able to resize issues such as faith, grace, salvation and mission."
Confronted by multiple losses, Ms. Rojas entered what she termed "a time of dispossession, where only the grace and love of God sustained me. God comforted me and guided me through a process of healing and freedom, and made me resize my ministerial call,"she said. "My fervent desire is to arrange my life so that God's purpose is fulfilled in me, and that everything he has given me is at his service."
Ms. Rojas has a daughter, Rebeca, who is a member of Comunidad Cristina Perdonados para Servir (Community Cristina Forgiven to Serve) in San José, Costa Rica. The church is part of an independent denomination.
Email Me