Wa Nkulu, Sylvie S.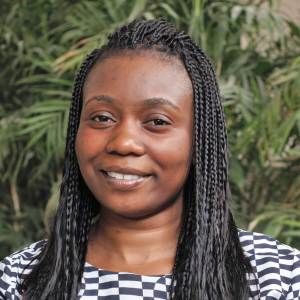 Serving At: Emmanuel Center for Women and Children
Home Country: Democratic Republic of the Congo
WAYS TO REACH ME:
This Global Mission Fellow in the International Track, will complete service on August 31, 2021. 
Sylvie Songe Wa Nkulu is a Global Mission Fellow with the United Methodist General Board of Global Ministries, engaged in a two-year term of service. Sylvie was commissioned on July 28, 2019.
The Global Mission Fellows program takes young adults ages 20-30 out of their home environments and places them in new contexts for mission experience and service. The program has a strong emphasis on faith and justice. Global Mission Fellows become active parts of their new local communities. They connect the church in mission across cultural and geographical boundaries. They grow in personal and social holiness and become strong young leaders working to build just communities in a peaceful world.
Sylvie is from Lubumbashi, Democratic Republic of the Congo. She is a member of the Mount Nebo United Methodist Church, Lubumbashi, in the North Katanga Annual Conference. She holds a master's degree in peace and governance from Africa University in Mutare, Zimbabwe, as well as a bachelor's degree in English and African culture. She has worked as a trainee, Mutare City Council and DGRAD, and as a teacher, Saint Francois de Salle.
"It is very important for me as a Christian to think, 'Where would I be today without God's presence in my life and in everything I do?' Every single day," Sylvie said, "is a new opportunity for me to examine my relationship with God and my faith. God is my guide and helper in every situation I face. My faith journey is [one] of gratitude, peace and love, with Jesus Christ, my Savior. Since I was a little girl, I always felt the need to help the people in my surroundings. To stand for women's rights and all the marginalized people is one of my biggest projects; moreover, I consider this to be my mission. I will be grateful to God the day I realize my project, as God stands by my side."
Email Me