Maremera, Godknows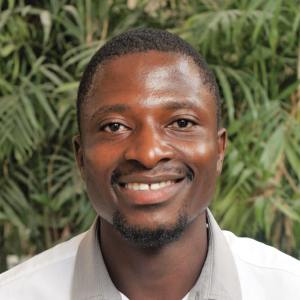 Serving At: Green Scenery
Home Country: Zimbabwe
WAYS TO REACH ME:
This missionary has ended service. The Advance number will be active until December 31, 2021.
Godknows Maremera is a Global Mission Fellow with the United Methodist General Board of Global Ministries, engaged in a two-year term of service. He was commissioned on July 28, 2019.
The Global Mission Fellows program takes young adults ages 20-30 out of their home environments and places them in new contexts for mission experience and service. The program has a strong emphasis on faith and justice. Global Mission Fellows become active parts of their new local communities. They connect the church in mission across cultural and geographical boundaries. They grow in personal and social holiness and become strong young leaders working to build just communities in a peaceful world.
Based in Sierra Leone, Godknows will work with Green Scenery, a nongovernmental organization that strives to ensure that communities and the government embrace sustainable use of natural resources as a gift to posterity, that people's land rights are not violated in large-scale land acquisitions and that communities are empowered through peer mediator networks.
Godknows is from Mutoko, Zimbabwe. He is a member of the United Methodist Church, Mutoko Centre Circuit, in the Zimbabwe West Annual Conference. He holds a bachelor's honors degree in geography and environmental studies from Midlands State University in Zimbabwe. He has worked as a safety health and environmental officer, an assistant district forestry extension officer and a project contact person.
Baptized and confirmed in The United Methodist Church, Godknows cherished his experiences in the United Methodist Youth Fellowship. "I experienced the fullness of agape love," he said. "I was called to evangelism. It was discovered through this process that I was good at teaching and making disciples by preaching the gospel." He later became active in the university United Methodist organization and participated in outreach, prayer camps and community service. "We had Bible study forums every week," he said, "and daily morning devotions. I grew in personal and social holiness. When I returned home, I had gained … life in abundance, and I sought to preach this." Working with youth at Great Dyke United Methodist Church, Godknows decided to apply for the Global Mission Fellows program. From childhood, he believed, "God had a predestined purpose for me."
Email Me