Rentta, Wingamkamliu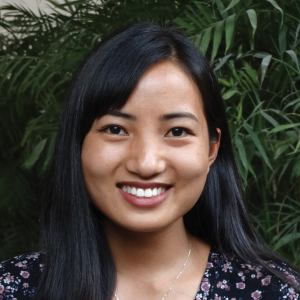 Serving At: Methodist Church in the Caribbean and the Americas (MCCA)
Home Country: India
WAYS TO REACH ME:
Wingamkamliu Rentta is a Global Mission Fellow with the United Methodist General Board of Global Ministries, engaged in a two-year term of service. She was commissioned on July 28, 2019.
The Global Mission Fellows program takes young adults ages 20-30 out of their home environments and places them in new contexts for mission experience and service. The program has a strong emphasis on faith and justice. Global Mission Fellows become active parts of their new local communities. They connect the church in mission across cultural and geographical boundaries. They grow in personal and social holiness and become strong young leaders working to build just communities in a peaceful world.
Wingamkamliu is fromNagaland, India. She is a member of Town Baptist Church, Tening, affiliated with the Nagaland Baptist Church Council. She holds a Bachelor of Arts degree in general studies from Patkai Christian College, Chumukedima, Nagaland. She has taught in a local school, volunteered with a nongovernmental organization, and worked at a children's home.
"My faith journey," Wingamkamliu said, "is a journeyof gratitude. Every day is an opportunity for me to witness God's amazing grace. It is my heart's desire to glorify and serve God by sharing the gospel with other people and helping them grow in love. Mission has been very close to my heart since I was very young. As I was growing up, I was truly inspired by my father, who is a missionary. I felt God's call to mission when the pastor of my local church appointed me to work with children's ministry as a Sunday school teacher. I have been engaging in different ministries in my church and community since then. God has given me the privilege to serve with young people in ways I have never imagined. I am passionate to help young people achieve their full potential and find their place in life."
Email Me