Sein, Saory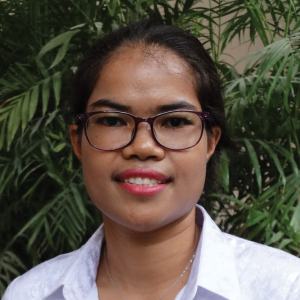 Serving At: The Methodist Church in the Caribbean and the Americas (MCCA), South Caribbean District
Home Country: Cambodia
WAYS TO REACH ME:
This Global Mission Fellow in the International Track has completed service.
Saory Sein is a Global Mission Fellow with the United Methodist General Board of Global Ministries, engaged in a two-year term of service. She was commissioned on July 28, 2019.
The Global Mission Fellows program takes young adults ages 20-30 out of their home environments and places them in new contexts for mission experience and service. The program has a strong emphasis on faith and justice. Global Mission Fellows become active parts of their new local communities. They connect the church in mission across cultural and geographical boundaries. They grow in personal and social holiness and become strong young leaders working to build just communities in a peaceful world.
Saory was born in Kampong Chhnang Province, Cambodia. She is a member of Kayang Soksan Methodist Church, part of The Methodist Church in Cambodia. A registered nurse and midwife, she holds a Bachelor of Science degree in nursing and midwifery from the University of Puthisastra, Phnom Penh, Cambodia, and an associate degree in nursing from Life University, Sihanoukville, Cambodia. Saory has worked as a consultant, Population Service International; a research assistant in social welfare, Gyunggi University; a secretary, National Youth Committee, Methodist Church in Cambodia; and a dormitory leader, HOPE5L2F.
After her brother-in-law shared the gospel with Saory, she accepted Jesus Christ in 2007. She had an opportunity to attend youth camp in Sihanoukville. She found a church she liked and began attending Bible study and baptism class and was baptized. Now her entire family is Christian. "I feel God calling me to help effect change in communities and impact lives through service," she said. "I would like to work with all my heart, working for the Lord." Her goal is to do everything for the glory of God. Inspired by Christ's Great Commission in Matthew 28, she said, "God's way is the best for my life."
Email Me