Ek, Chanmony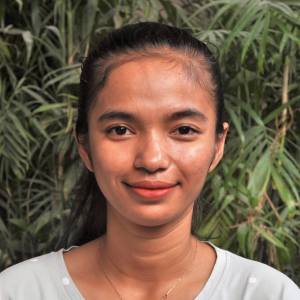 Serving At: Northfield Methodist Church
Home Country: Cambodia
WAYS TO REACH ME:
Chanmony Ek is a Global Mission Fellow with the United Methodist General Board of Global Ministries, engaged in a two-year term of service. She was commissioned on July 28, 2019.
The Global Mission Fellows program takes young adults ages 20-30 out of their home environments and places them in new contexts for mission experience and service. The program has a strong emphasis on faith and justice. Global Mission Fellows become active parts of their new local communities. They connect the church in mission across cultural and geographical boundaries. They grow in personal and social holiness and become strong young leaders working to build just communities in a peaceful world.
Chanmony was born in Phnom Penh, Cambodia. She is a member of the nondenominational Faith in Christ Church in Phnom Penh. She has completed three years of a bachelor's degree program in business accounting at the Vanda Institute of Accounting and Auditing and received a Certificate of Intensive English Academic Purposes from Panha Sastra University of Cambodia. Chanmony has worked as a sales supervisor, a finance assistant and an administrative assistant.
Raised in the Buddhist faith, Chanmony was drawn to Christianity by a missionary who invited the young woman and her mother to join a weekly small group. "She taught us the basics … of the Bible in a year," Chanmony said. "I learned how God works in my life." After she and her mother were baptized, Chanmony became involved in worship, youth group and teaching Sunday school. "God has given me this life to love one another as he loves me," she said. "When I was young, my dream was to succeed in my studies and get the best job to help my family." Now her focus is on furthering God's mission. Chanmony is excited about her Global Mission Fellows future. "I know," she continued, "this is the opportunity for me to achieve my dream to serve God and others."
Email Me