Labagan, Gemma A.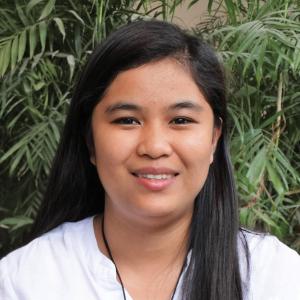 Serving At: Taiwan Soochow University
Home Country: Philippines
WAYS TO REACH ME:
Gemma Antonio Labagan is a Global Mission Fellow with the United Methodist General Board of Global Ministries, engaged in a two-year term of service. She was commissioned on July 28, 2019
The Global Mission Fellows program takes young adults ages 20-30 out of their home environments and places them in new contexts for mission experience and service. The program has a strong emphasis on faith and justice. Global Mission Fellows become active parts of their new local communities. They connect the church in mission across cultural and geographical boundaries. They grow in personal and social holiness and become strong young leaders working to build just communities in a peaceful world.
Gemma is from Polomolok, South Cotabato, Philippines. She is a member of the Polomolok United Methodist Church, Mindanao Philippines Annual Conference. She holds a bachelor's degree in early childhood education and Christian education from Southern Philippines Methodist Colleges, Kidapawan City, Cotabato. She is a full-time deaconess at Polomolok United Methodist Church, as well as a preschool teacher/schoolteacher in charge at J. L. Valencia Memorial Academy.
"I accepted the affirmation of my calling when I attended a Christmas Institute for Young People. I am quite fulfilled and blessed. To be a deaconess, Christian education chairperson, teacher and schoolteacher in charge are not easy tasks. But I know God has directed me to this path and will continue to lead me that I may grow, learn and bear fruit. It's really nice to work with God, for the joy of the Lord is my strength." Whether her classroom is in a well-equipped building or on the ground beneath a shady tree, Gemma loves teaching. "I realize," she added, "that my hands should be extended to those who really need what I can give: education, emotional support and the word of God. I know I am called to serve, and I am happy that I [can] reach out, especially to children, young people and women."
Email Me