Bael, Kate Crystal B.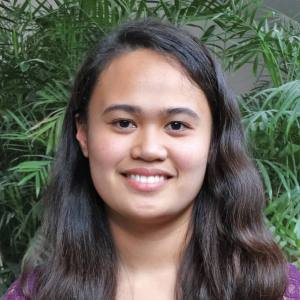 Serving At: Instituto de Derechos Humanos de la Universidad Centroamericana UCA
Home Country: Philippines
WAYS TO REACH ME:
This missionary has completed service. The Advance number will remain active until December 31, 2021.
Kate Crystal Bugarin Bael is a Global Mission Fellow with the United Methodist General Board of Global Ministries, engaged in a two-year term of service. She was commissioned on July 28, 2019.
The Global Mission Fellows program takes young adults ages 20-30 out of their home environments and places them in new contexts for mission experience and service. The program has a strong emphasis on faith and justice. Global Mission Fellows become active parts of their new local communities. They connect the church in mission across cultural and geographical boundaries. They grow in personal and social holiness and become strong young leaders working to build just communities in a peaceful world.
Kate is from Mangatarem, Pangasinan, in the Philippines. She is a member of Nancasalan United Methodist Church in the Central Luzon Philippines Annual Conference. She holds a Bachelor of Science degree in social work from the Urdaneta City University in Pangasinan. She served with the children's and youth ministry of her church. As a social worker, she began working as a project development officer at the Department of Social Welfare and Development.
"Raised by families who are members of the United Methodist Church," Kate said, "I was introduced to live a life with Jesus Christ at an early age. As I continue to grow and build my personal relationship with God through his Son, Jesus Christ, I've experienced his sufficient grace and accepted him as my personal Lord and Savior. My desire is for other people, especially those who haven't heard the gospel, to witness and experience the same love that gave me a renewed heart. When I started attending a university, I was confronted by the reality the world offers: its brokenness. I felt the pain of powerlessness, but God planted a dream in my heart. He is calling me to be with him in mission. As I continue to walk the journey of faith, I aspire to be an agent of change through reflecting God's love in standing against oppression and injustice."
Email Me